Forbidden (1932) not available on video.
Forbidden is a soap opera with Barbara playing a librarian who tires of her lifeless existence and puts all her money into an ocean cruise. There she meets Adolph Menjou, who charms her with beguiling suavity, and before she knows it she's set up as his mistress. Menjou and Stanwyck work together like old friends, conveying infinite ease with one another while playing silly games and making idle talk.
The Bitter Tea of General Yen (1933) Columbia/Tristar Home Video.
Trapped deep in China while a civil war rips the country apart, Barbara plays a missionary rescued by a war lord (played by Nils Asther) in The Bitter Tea of General Yen. His plans for her, however, become quite obvious. His eyes take on an evil twinkle whenever she is near and his mouth curls into a smirk. But, against her own wishes, she finds herself strangely attracted to his mixture of arrogance, sophistication, and decadence. At one point, she even dreams of him attacking her (he appears as an outlandish caricature of the dreaded yellow menace, with long fingernails and mustache, looking like a sewer rat) and then a dashing, masked man saves her, only to strip off his mask and reveal General Yen again. She swoons in his arms, spinning in ecstasy. A much more visually impressive movie than any of her Warners movies of this period. Capra fills the screen with lavish sets and rich romantic action.
Night Nurse (1931) MGM/UA Home Video.
During the early '30s, Barbara balanced the prestigious Capra productions with the down-and-dirty Warner productions. In Night Nurse, for example, she must battle a vicious butler, played by Clark Gable, who even KO's her in one scene. But she isn't afraid to stand up against anyone. After she is placed in the home of a bored socialite who'd rather drink herself into oblivion than care for her children, Stanwyck steps forward to take on Gable one-on-one. Clad in a chauffeur suit that makes him look like a potential SS officer, Gable snarls and snaps while Stanwyck enlists the help of Joan Blondell and a slap happy boyfriend itchin' for some trouble.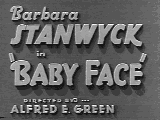 Baby Face (1933) MGM/UA Home Video.
In Baby Face Barbara got to test her chops in a bad girl role and she passes the test with flashing thighs and conniving schemes that would have put Mae West to shame. Raised by a father who forced her into prostitution (as the star attraction of his flea-bitten speak easy), she leaves her poor mining town for the big city and promptly puts her sights on sleeping her way to the top. With a bat of her eyes and a come hither look she talks a plump personnel clerk into slipping into an empty office with her for a quickie ("The boss won't be back for an hour," says the clerk. "Well," says Baby Face, "Then why don't we go in an talk this over.") and soon afterwards she's steamrolling her way through one manager after another, leaving them groveling in her wake. John Wayne, featured in a bit role, survives her opportunism, but, as one of the secretaries says to him: "Wake up, kid. Baby Face is moving out of your class." Typical of Warners productions of the same period, the look of Baby Face is lean and economical, no fancy camera shots or elaborate sets. The risque material and the strong performances carry the movie.
page 2 of 2

---
---
Photo Credits: MGM/UA Home Video.