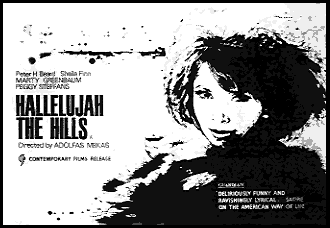 Adolfas Mekas's Hallelujah the Hills (1963), for example, absorbs cinematic history into a modernist framework, skewing the narrative by resurrecting visual and aural strategies as old as cinema itself: iris shots, speeded-up movements, real location shooting, novice actors, and a use of music that recalls the silent film--not merely commenting on the action, but working with the visuals to create the film's mood.
The silent film reference is no mere conceit. Other films from this period--De Palma's The Wedding Party (1966) and Greetings (1968) and John Korty's Crazy Quilt (1965)--combine modernist, radical visuals (bizarre angles, discontinuous editing, double exposures and flash forwards) with silent movie techniques to exhilarating effect. These films recall early cinema in their sense of openness, of the fantastic possibilities of film for aesthetic pleasures and social change. This use of silent techniques, black and white photography, and music verifies this. Far from being reactionary, the films gain immeasurably from such references--the sheer joy of filmmaking, surely an important component of silent cinema, is obvious in the gleeful rule-breaking apparent in many of these films.
Hallelujah, the Hills, again like others here, has a subtext of deprivation, a purposeful exposure of the financial struggle behind the film and evident in what we see. Mekas allows the ragged edges to show, cutting through the artifice to say, yes, this is a film!--but exploiting its budget limitations in the name of realism rather than artfully disguising those limitations as in commercial cinema. In addition to the obvious class resonances, this approach also increased audience sympathy with the characters as the distance between viewer and viewed is eroded, the latter an important motif in all kinds of art of the 1960s and beyond.
page 1 of 3

---
Photo credits: Orion Home Video