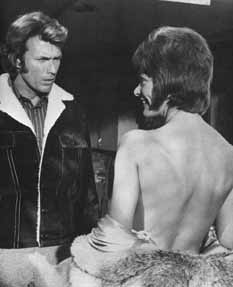 Clint Eastwood and Jessica Walters
in Play Misty for Me.
That same year saw the release of Dirty Harry, the hook of which is an exposition of a similarly paranoid social worldview, this time rendered transparently political. Inspector Harry Callahan is beset by a world in which the underclasses are out of control and speaking in dialect, and everyone else, especially the mayor, is too concerned about political image and bureaucratic regulations to do anything about it. That marginalized groups are equated with the prevailing social chaos is made clear by another cop's comment, in front of Harry's new Latino college-boy partner, Chico Gonzales (Reni Santoni), that he got his name by hating "niggers, dagos, kykes, and chinks." When his partner asks sarcastically, "what about spicks?" Callahan replies with a wink to the first cop, "especially spicks." In the no-brainer big hook scene, Callahan foils a bank robbery perpetrated, presumably, by Black Panthers (the robbers all wear black leather jackets, berets, and sunglasses).
Lobby card for Dirty Harry.
After killing all the suspects but one, Callahan ends up in a standoff with the one surviving robber, who is bleeding and prone. Daring the hapless perpetrator to go for his gun, Callahan asks him if he "feels lucky" enough to remember whether there were five or six shots fired from Harry's hand cannon. After backing down, the dying suspect pitifully drawls, "I gots to know." Callahan gleefully, tortuously points the gun at him and pulls the trigger on an empty chamber. It is never evident that he actually knew whether it would go off, which adds to the brilliantly thorough bad will of the scene, which is so effectively timed, filmed, and performed as to make it nearly irresistable to to cheer. It is important to note that the speech is repeated during the climactic showdown with the bad guy, "Scorpio," the flip side of Callahan's racist ideology (the main difference being that he kills "niggers and Catholics" for profit rather than order). Tellingly, Callahan's speech to Scorpio is far less memorable than the one to the Panther.
page 1 of 5