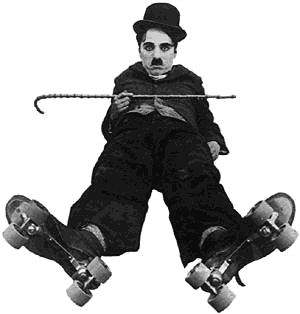 Critic Roger Ebert once said, "I've never seen a Charlie Chaplin short that didn't look as if somebody hadn't dragged it behind a truck for about five miles." However, in recent years, Kino on Video has taken some major steps in remedying this situation. In 1984 Kino released restored analog versions of several Chaplin shorts. And since then they have offered remastered analog versions of Mutual and Essanay Studios output, complete with re-orchestrated musical scores.
Recent advances in video technology have prompted Kino to release a new edition of "The Chaplin Mutuals." All twelve shorts in the series have been remastered and restored by renown film restoration expert David Shepherd (who also restored the films in Kino's "The Art of Buster Keaton" video series). Shepherd tracked down the best surviving 35mm negatives and digitally mastered the prints, using a process known as "Digital Vision Noise Reduction" to eliminate scratches, splice lines, flaked emulsion, and punch marks. The resulting images are surprisingly clear and distinct.
In addition, composer Michael Mortilla has revised, re-orchestrated, and re-recorded the musical score for the Mutual shorts in digital stereo. This new version of the "The Chaplin Mutuals" is truly the best these shorts have ever looked and sounded on videotape.
The two-reel comedies that Chaplin made for Mutual Film Corporation are arguably his best shorts. Chaplin himself said, "Fulfilling the Mutual contract, I suppose, was the happiest period of my career." Chaplin signed with Mutual in late 1915, foregoing a $500,000 offer from Essanay, where he had filmed several successful two-reelers over the past year. Mutual did indeed outbid Essanay, giving Chaplin a $10,000 a week contract (for one year) and a $150,000 signing bonus. But the real kicker was Mutual gave Chaplin almost complete control on the shorts. He was the writer and director, as well as actor. During this time, Chaplin's filmmaking techniques became more refined as he rehearsed, shot, and re-shot scenes until they were just right. His contract was for twelve shorts in twelve months, but Chaplin actually took eighteen months to complete the contract.
Some of these shorts resemble his previous work, with the knockabout comedy in "The Adventurer" recalling his more frantic work at Keystone and "Behind the Screen" even erupts into a full-scale pie fight, but during these comedies for Mutual, Chaplin became a more sophisticated filmmaker. In "The Vagabound," for example, Chaplin supplies some of the pathos that become a hallmark of his later comedies: he plays a street violinist who rescues Edna (his frequent leading lady Edna Purviance) from gypsies, only to lose her (and then regain her). And in "Easy Street," urban violence and spousal abuse become the norm: Chaplin plays a policeman who patrols the toughest neighborhood in town. He goes up against his chief nemesis in the Mutual shorts--Eric Campbell, a giant of a man with a barrel chest and crazy eyebrows. But somehow, Chaplin always finds a way of getting the upperhand: in "The Immigrant" Campbell plays a waiter who suspects that Chaplin can't pay his bill (he can't). He towers threateningly over Chaplin, but when Campbell isn't watching, Chaplin steals Campbell's own tip money and proudly hands it to him as payment. Chaplin would combat Campbell frequently. In "The Rink" they fought their battle on a roller skating rink. However, Chaplin has the distinct advantage--while Campbell lumbers around the rink, Chaplin gracefully skates circles around Campbell (a skill he would also exhibit in one of his great feature films, Modern Times).
Now we can re-experience these films in superior video transfers, thanks to Kino and David Shepard. In comparison, the previous versions look as if they were filmed through gauze. If you love silent comedy and you don't own these tapes, there is a serious gap in your collection.
---
The Chaplin Mutuals are now available from Kino On Video as a three-tape series. All 12 shorts in the series have been digitally remastered by David Shepard of Film Preservation Associates. Volume One includes "The Immigrant," "The Adventurer," "The Cure," and "Easy Street." Volume Two includes "The Count," "The Vagabound," "The Fireman," and "Behind the Screen." And Volume Three includes "One A.M.," "The Pawnshop," "The Floorwalker," and "The Rink." Suggested retail price: $19.95 per tape.