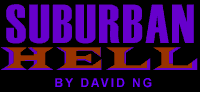 The last scene from Welcome to the Dollhouse.
On a bus trip with her school chorus, The Hummingbirds, Dawn and the other students sing their signature song. On the film's soundtrack, the voices fade away until we only hear Dawn's. Though she is physically surrounded by others, she smiles and sings alone.
After the fade to black, the soundtrack's ominous title song kicks in.

AUDIO CLIP REQUIRES
REALAUDIO PLAYER.
(DOWNLOAD REALPLAYER.)