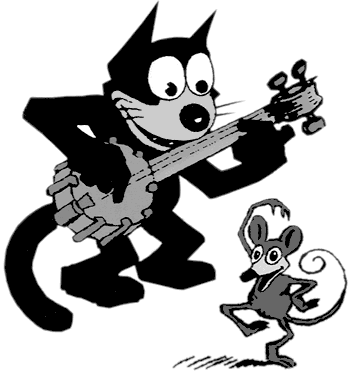 When Hollywood switched from silent to sound productions, many actors and actresses found their careers at a dead end. The same fate also befell a cartoon character, Felix the Cat. Throughout the 1920s, Felix was arguably the most popular of all silent-era cartoon characters. His image was mass-merchandised and used to sell dolls, baby oil, and many other products. He even had his own brand of cigars.
Felix wasn't simply a wonder of marketing acumen: the Felix the Cat cartoons contained some of the wittiest animation of the silent era. Thanks to creator and animator Otto Messmer, Felix was bursting with personality. While most other cartoon characters contained little sense of individuality, Messmer imbued Felix with several key traits, mannerisms, and facial movements. Most important of all, when he was stumped for an answer, Felix paced back and forth pensively, his head hanging low and his hands interlocked behind his back, while he brainstormed for an answer. And he usually found an answer, for Felix was one of the fastest-thinking cartoon characters ever created.
But Felix's wits couldn't overcome the narrow vision of Pat Sullivan, the man who ran the studio from which Felix hailed. Sullivan refused to upgrade his studio for producing sound cartoons. As a result, Felix's pantomimed adventures (complete with speech balloons as in today's newspaper comics) soon became obsolete.
This new DVD from Bosko Video and Image Entertainment allows us to experience some of the earliest cartoons in Felix's silent-era reign. (The same cartoons were previously available on VHS as a two-tape set from Bosko Video.) These cartoons don't represent the full breadth of Felix's career. They represent only the first few years, when the Felix cartoons were distributed worldwide by M.J. (Margaret) Winkler Productions. But these are key cartoons in Felix's development.
The DVD begins with Felix's earliest incarnation, in an episode of Paramount Magazine entitled "Feline Follies" (1919). In this early cartoon, a cat named Master Tom courts a lady cat who lives down the road. Master Tom has few, if any, of Felix's key traits. If truth be told, Master Tom is just as bland and nondescript as most other silent-era cartoon stars. But near the end of the cartoon, while Master Tom is serenading his sweety with a guitar, something interesting happens: after Master Tom strikes some notes on the guitar, he plucks the notes out of the air, builds a go-cart with them, and then rides off. Surprising actions like this would become a hallmark of the Felix the Cat cartoons.
In the first bona fide Felix the Cat cartoon, "Felix Saves the Day" (1922), Otto Messmer provides us with a full range of the characteristics that would endear Felix to audiences. The cartoon is filled with fantastic developments, but at the same time, it revolves around a familiar event--a baseball game at the Polo Grounds in New York City. In this cartoon, we first experience what happens when Felix is confounded: a series of question marks leaps from his head. In a pinch, Felix can use these question marks, as he does here when he climbs up them to get at a window several stories high. "Felix Finds 'Em Fickle" (1924) contains another witty use of a punctuation mark. This time it's an exclamation mark that leaps from his head when he's confronted by a bear. Felix grabs the exclamation mark and clubs the bear over the head.
The first genuine Felix cartoon, "Felix Saves the Day," also presents us with one of the archetypal Felix the Cat plots: Felix comes to the aid of a friend and finds a witty, unconventional way of saving the day. In this case, Felix's ballplayer friend is thrown in jail the day before the big game. Felix must take the ballplayer's place in the lineup. While Felix doesn't exactly win the game, he does find an original way of postponing the outcome to a later date: he beans the god Jupiter with a towering pop up that scorches into the heavens. In retaliation, Jupiter unleashes a torrent of rain on the stadium, effectively canceling the game. In "Felix Goes A-Hunting" (1923), Felix helps a henpecked husband get a fur coat for the wife. In "Felix in Hollywood" (1923), Felix helps his owner get to Hollywood, and he helps a shoe store owner sellout of shoes. In "Felix Lends a Hand" (1922), Felix rides a flying carpet to Egypt to save a shop keeper's girlfriend. This was one of Felix's most endearing qualities, his willingness to help out whenever necessay. And in all cases, Felix's solutions are anything but run-of-the-mill. Frequently, the solutions don't really work as intended. In "Felix Goes A-Hunting," Felix provokes a bear to chase him so that a hunter can shoot the bear, but the hunter isn't ready and the bear runs right into the hunter's house and into the hunter's wife. And in "Felix Lends a Hand," Felix discovers the shop keeper's girlfriend has become so fat that he can't get her on the flying carpet.
For people only familiar with the Felix of latter day cartoons, these cartoons will come as a big surprise. In the earliest cartoons, Felix has a long snout and large pointed ears. His body is angular and resembles a dog more than a cat. But if you watch the cartoons carefully on this DVD, you'll see a change take place in the cartoons of 1924: suddenly Felix becomes more rounded, with larger eyes and a shorter snout. This is the Felix that most people are familiar with. This is the Felix that Otto Messmer popularized in his Sunday comics strip that lasted long after Pat Sullivan Studios had closed down. (Messmer would draw a daily Felix comic strip until 1943 and a Sunday strip until 1967.)
The cartoons on this DVD have not been restored, except for restoring their correct speed. At times the image quality is relatively poor, with dirt and dust accumulating in the corners of the frame. In addition, Bosko Video has an annoying habit of over-matting cartoons so that part of the top and/or the bottom of the frame is missing. But sometimes it's simply good enough to find some films accessible again. That's the case with these cartoons. This DVD is filled with classic animation from one of the most influential cartoonists of all time, Otto Messmer.
---
Presenting Felix the Cat: The Otto Messmer Classics, 1919-24 is now available on DVD from Image Entertainment and Bosko Video. The DVD contains the following cartoons: Paramount Magazine (including Felix's debut in "Feline Follies," as well as Earl Hurd's Bobby Bumps in "Their Master's Voice" and Frank Moser's Bud and Susie in "Down the Mississippi"), "Felix Saves the Day," "Felix in the Swim," "Felix Turns the Tide," "Felix Lends a Hand," "Felix Minds the Kid," "Felix in the Stone Age," "Felix the Ghost Breaker," "Felix Wins Out," "Felix Revolts," "Felix Gets Broadcasted," "Felix in Hollywood," "Felix in Fairyland," "Felix Out of Luck," "Felix Goes A-Hunting," "Felix Finds 'Em Fickle." Suggested retail price: $24.99.