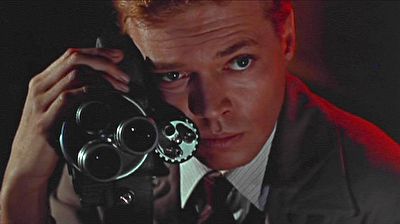 Mark Lewis (Carl Boehm) has an unnatural attachment to his camera in Michael Powell's Peeping Tom.
(© MCMLX Michael Powell (Theatre) Ltd. © The Criterion Collection. All rights reserved.)
D V D R E V I E W B Y G A R Y J O H N S O N
When Peeping Tom was released in England in 1960, it was greeted with widespread critical condemnation. Reactions were so hostile that the distributor pulled the movie from release after only a week. Derek Hill of the Tribune said, "The only really satisfactory way to dispose of Peeping Tom would be to shovel it up and flush it down the nearest sewer. Even then the stench would remain."
At the conclusion of the movie's premiere screening, director/producer Michael Powell waited in the theater lobby to greet the invited guests and hear what they had to say about the movie. However, no one went near him or shook his hand. Upon seeing him, they turned and headed for the exit.
Due to the vicious critical reactions, Powell's career was destroyed. It mattered little that Powell had also created such highly regarded movies as The Thief of Baghdad (1940), Black Narcissus (1946), and The Red Shoes (1948). Powell was forever linked to a movie that had shocked and stunned critics and audiences. During the next 30 years, until his death in 1990, Powell directed only three more movies.
Much of the critical reaction focused on the movie's sympathetic portrayal of a sexual deviant who murders several women. He photographs each murder so that he can project the image on the wall of his apartment. The fact that Powell was implicating the filmgoers--along with Mark Lewis--as voyeurs was not missed by the critics; however, in their rush to condemn the movie, they disregarded how intelligently the movie dealt with the inner life of its main character and the relationship of the character's psychosis to the process of looking at projected images.
Peeping Tom remained buried and forgotten until 1979, when director Martin Scorsese helped unearth a print for screening at the New York Film Festival. And subsequently, Peeping Tom played the art-house circuit in America while critics hailed the movie as a classic of British cinema.
Scripted by Leo Marks, Peeping Tom is an exceptionally complex and challenging film. It dares to explain the psychological background of its lead character, Mark Lewis (Carl Boehm), so that we can understand why he murders women. By way of film footage shot by his father when Mark was just a boy, we learn that Mark's father used him as a guinea pig for scientific experiments. Dr. Lewis was a behavioral scientist who explored how children responded physically to fear. So, for example, he would wake Mark in the middle of the night by throwing a lizard on his bed. All of Mark's reactions--the screams and the tears--were captured on film, and after his father died, Mark kept the film canisters in a cabinet in his apartment. In fact, Mark now lives in the room that his father used as a laboratory. Mark hasn't been able to forget his experiences as a child, and now his trauma has become deeply rooted in his sexual desires.
Instead of suggesting that Mark is the villain, the film suggests his father (played by Michael Powell himself) is the true villain.

stills from
Peeping Tom







[click photos for larger versions]

Armed with a 16mm camera, which rarely leaves his side, Mark lives to photograph the final death throes of his victims. Turning a mirror toward their faces, he forces his victims to see their own fear before plunging a spike/tripod leg into their throats. He wants to capture the perfect image of fear on film. The murders he commits are simply a means to an end, for Mark Lewis derives pleasure not from the act of murder itself but from watching the projected results. For Mark, this is a never-ending quest, for he always finds something wrong with the images (i.e., he can never satisfy his father's quest for perfection).

When Mark plays back the murders he has photographed, we become complicit. We become implicated as voyeurs, with the act of watching associated with sadism and the need to control.

Mark still lives in the house where he grew up. To supplement his income, he leases the rooms on the first floor. One of the renters, Helen (Anna Massey), becomes attracted to Mark. She sees a shy and sensitive young man and wants to break through the barrier that he has erected around himself. And she finds some limited success. At one point, she even gets Mark to leave his camera behind when they go out on a date. But as he begins to care about Helen, Mark begins to fear what might happen if he focuses his camera upon her: "It will never see you. Whatever I photograph, I lose," he says.

Contrasted with Helen is the reaction of her mother, who also lives downstairs. Unlike Helen, Mrs. Stephens (Maxine Audley) is suspicious of Mark. She is blind, but she intuitively knows that Mark is troubled. In one of the movie's key sequences, she visits his apartment while he's out. When Mark comes home, he discovers her in the shadows. She photographs Mark by running her hands over his face. Her method of remembering implies the intimacy of human contact--which is posited in contrast to Mark's emotional isolation. Sight can be a disadvantage, for Mark has become a slave to his fetish object--his camera--and the images that it can supply. Helen even calls it his "extra limb."

This new Criterion Collection release of Peeping Tom is loaded with extras. Film theorist Laura Mulvey provides commentary on an alternate audio track. Most of her comments are presented in the form of a close reading of the movie. She isn't particularly concerned with the movie's production history or the actors. For example, she says hardly anything about Pamela Green, a famous British pin-up model who is prominently featured in two scenes in Peeping Tom. Mulvey remains very focused on examining the movie's psychological underpinnings, and on those terms, she provides one of the most insightful audio commentary tracks of the entire Criterion Collection. If it's production history you're interested in, the DVD package contains a first-rate documentary titled A Very British Psycho that examines the movie's critical reception. In addition, the documentary provides some surprising insights into the important contributions that screenwriter Leo Marks made as a code breaker during WWII--while drawing connections between Marks' facility for code breaking and the intricate web of codes that he created in Peeping Tom. The DVD also contains a stills gallery with rare behind-the-scenes photographs and an original theatrical trailer. Overall, this is one of The Criterion Collection's best releases yet.
---
Peeping Tom is available on DVD from The Criterion Collection in a new transfer created from restored film elements and enhanced for widescreen televisions. The DVD contains several special features: audio commentary by renowned film theorist Laura Mulvey; a stills gallery of rare behind-the-scenes production photos; a Channel 4 U.K. documentary called A Very British Psycho about the life of screenwriter Leo Marks and the amking and critical reception of Peeping Tom; and the original theatrical trailer. Suggested retail price: $39.95.