Lon Chaney
Outside the Law
and Shadows

DVD REVIEW BY JAMES NEWMAN


Lon Chaney might never have become involved in the movie industry if not for the failure of a stage musical. In 1913, it ran out of money in Santa Ana and disbanded, leaving actor Chaney to fend for himself. Looking for means of survival, Chaney became a property man at Universal Studio, where he could experiment with makeup and costumes. Gradually, he was given opportunities to perform in front of the camera. By 1920, Lon Chaney had appeared in well over 100 films. Many of these appearances were little more than bit roles. But as the '20s neared, more substantial roles started coming his way.

The Miracle Man (1919) was a crucial step. It allowed Chaney to play a man who masquerades as a cripple in order to con a faith healer--allowing himself to be "cured" at a crucial moment. The success of The Miracle Man brought Chaney increased exposure as a leading man. The Penalty (1920) established him as one of the most intense and terrifying performers of the silent screen. He plays a criminal mastermind whose legs were amputated when he was a boy by an incompetent doctor. He now lives to take revenge. Chaney strapped his legs within a pair of leather stumps to play this role. As Chaney biographer Michael Blales says, "One has to wonder if the intensity he brought to this role might have been due in part to the pain produced by his harness."

At this early point in his career (Chaney was just 34 years old in 1920), he had yet to work with director Tod Browning, with whom he would form an important filmmaking partnership. However, his first movie with Browning, Outside the Law (1921), is now available on DVD from Image Entertainment on a double-feature disc, backed with Shadows (1922), a melodrama that casts Chaney as an elderly Chinese laundryman.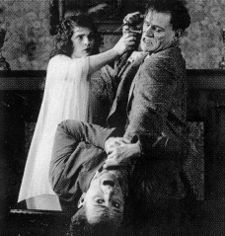 Priscilla Dean struggles with Lon Chaney, who clearly has the upper hand on Wheeler Oakman, in Outside the Law

The opening credits of Outside the Law give Chaney fourth billing. Priscilla Dean, a name largely forgotten today, receives lead billing, and her name appears over the movie's title. As such, Chaney does indeed receive much less screen time than Dean, even considering he gets a double role. He plays both Black Mike Sylva, a vicious underworld crime boss, and Ah Wing, one of many oriental portrayals assumed by Chaney in his career.

People coming to this movie with hopes of seeing Chaney in his prime will likely be disappointed. He disappears from the screen for long periods of time as the story focuses on Priscilla Dean. She plays the daughter of a crime boss. Black Mike is ready to move in on his territory. He arranges for him to be framed for shooting a policeman, and he intends to railroad Molly (Dean) also: "I got a personal grudge against this dame," he says. He forces her to take part in a robbery while making sure the police will show up when she has the loot in hand. Thanks to her boyfriend, Dapper Bill Ballard (Wheeler Oakman), who works for Black Mike, Molly learns of the deception, pockets the loot, avoids the police, and holes up with her boyfriend in an apartment across town. Meanwhile, Black Mike scours the city for them. He doesn't take deception lightly.

By playing Black Mike, Chaney isn't given the opportunity to indulge his makeup virtuosity. For that purpose, Chaney also plays Ah Wing, a Chinese servant. Chaney is almost unrecognizable in this role, although the makeup is minimal. In the movie's early scenes, Ah Wing gets considerable screen time. But even then it's clear he's just a peripheral character. Not surprisingly, a third of the way through the movie, Ah Wing pretty much disappears entirely, which is for the best. It allows the story to then take off without any further digressions.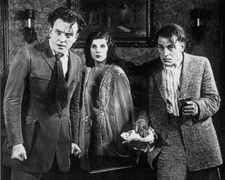 Wheeler Oakman, Priscilla Dean, and Lon Chaney in Outside the Law

As Black Mike, Chaney isn't given many big scenes until the last third of the movie, but his menace hangs over the movie. He's described by the title cards as "a rat, a vulture, a snake--feared even by his pals." Chaney's performance in Outside the Law shows his considerable talent for playing fiends, but most importantly the movie shows the budding relationship between Browning and Chaney. While Chaney's role gives him much less screen time than Priscilla Dean, Tod Browning's direction places special emphasis on Chaney's face, which is frequently filmed in close up as he menaces Molly and her beau. Chaney was a gloriously melodramatic actor who loved to grimace and sneer. Browning uses Chaney's intensity to push the movie to a more brutal level than typical of Hollywood studio silent productions. While the crime drama with Molly and Dapper Bill is conventional and a bit bland, Chaney's presence as Black Mike gives the proceedings a palpable sense of evil.

At about the 57-minute mark, the print used for mastering this DVD shows significant damage, and throughout the rest of the movie's 75-minute running time, the print is frequently marked by decomposition. During the final sequence, a battle breaks out within a Chinese store, destroying nearly everything within the store's walls, but during this scene, the print luckily exhibits only has a modest amount of damage and remains very watchable. In contrast, the second half of this double-feature, Shadows doesn't have any major damage--but the print is worn and marked with vertical scratches that persist for minutes at a time.

Shadows is much less substantial than Outside the Law. It tells the story of a Chinese laundryman named Yen Sin. After he's cast ashore on the shore of a small fishing town, he struggles to survive while faced with daunting prejudice from the villagers. The local preacher says Yen Sin must be a Christian or leave: they don't want their purity tainted. Nonetheless, Yen Sin stays. Hunched over submissively, Chaney's portrayal of Yen Sin is such a broad caricature that he's difficult to watch nowadays. Most disappointing, however, is the movie's final sequence, where the innately good Yen Sin, while struggling on his death bed, manages to fix most of the town's problems.

In stories such as this, Chaney's predilection for melodramatic simplification could become overbearing--especially in the hands of a lesser director; however, when teamed with Tod Browning, a special brand of menace and intensity frequently resulted. This DVD is a minor addition to the Lon Chaney movies currently available on VHS and DVD, but it's a valuable addition for Chaney fans who want to see the master at work developing his film acting style.
---
Outside the Law and Shadows are now available on a double-feature DVD from Image Entertainment. Suggested list price: $24.99. For more information, check out the Image Entertainment Web site.