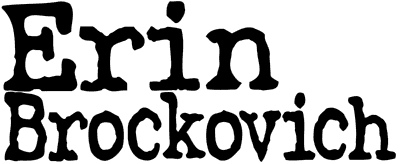 With Erin Brockovich, director Steven Soderbergh reunites with the same producing team he worked with on Out of Sight, and once again he demonstrates his ability to bring the feel of an independent film to a star vehicle. Everyoneís favorite pretty woman, Julia Roberts--who has made even streetwalking seem appealing--takes on the true story of Erin Brockovich, and under Soderberghís surehand and camera, she disappears into Erinís unglamorous world.
Roberts establishes Erinís considerable charm and total lack of work experience in the opening sequence, in which she tries to convince a physician that she can make an able medical assistant because of her trips to the pediatrician with her children and her sincere desire to learn. When she knows that she has failed to land another job, the charming facade vanishes: she has lost again, dismissed by the world as an uneducated, unskilled single mother of three, with no way to improve her life or the lives of her children.
Erin finally manages to manipulate her way into a job with attorney Ed Masrey (Albert Finney), after he fails to win her lawsuit against an upstanding physician who recklessly crashes his Jaguar into her car. Erin makes a poor impression on the jury, with her tight, revealing dress, her two divorces, her temper, and her bad language. Erin is inseparable from her appearance, and Roberts is costumed in an array of loud, revealing clothing. She refuses to tone down her attire any more than she will tone down her attitude, but it is her passion and her sense of self that ultimately transforms her life.
While investigating a court case, Erin stumbles upoon medical records placed in real estate files. After she begins to question the connection, she discovers a cover-up involving contaminated water--which causes devastating illnesses among the local town residents. Initially, many of the residents she meets are like Donna Jensen (Marg Helgenberger), a wife and mother. Donna believes PG&E is being generous by offering to buy her home and pay for her medical examination. Because she believes in a world that is fair and honest, Donna fails to comprehend PG&E's responsibility for the illnesses. Her terror when she realizes that her children are unsafe in their own backyard pool is moving. Erinís warmth and honesty allow her to document the town of Hinkleyís personal tragedies, while her passion makes her a true champion of their cause against the misinformation and resources of a major utility.
While the situation of the film is similar to the John Travolta vehicle A Civil Action, also based on a true story, the focus of this film is very different. A Civil Action was a film about lawyers, the court, and winning, while Erin Brockovich is about the emotional bond between the plaintiffs and Erin, who share a belief that they deserve respect and a better life with their families. As with her screenplay for Ever After, writer Susannah Grant has created a fairy-tale of female empowerment, where the heroineís belief in her own value and personal integrity is more important to her transformation than a fairy godmother or a prince charming. The result is charming and infectious. Though Erinís twin driving forces are her children and a town infected with chronic illness, the film manages to avoid sentimentality. The film values and respects Erinís children and the citizens of Hinkley in a genuine and pragmatic way, without repeating the more maudlin moments of A Civil Action or Jerry Maguire.
As Erin slowly convinces Ed to trust her, she must learn to trust George (Aaron Eckhart), a neighbor who starts out watching her children, picking up more and more of the slack as she becomes involved with the Hinkley case. Eckhart manages to hold his own against Roberts, balancing her charisma with his quiet strength and self-confidence. Unlike the Beau Bridges character in Norma Rae, George proves himself as rare an opportunity as this cause, and his complaints are seen as valid. His caring for her children is not a passive act but a loving and active choice. As he sleepily tells Erin over the phone about Bethís first word, Eckhart conveys Georgeís acute and caring observation of the babyís development: "It was really intense."
Soderbergh with cinematographer Ed Lachman has given this film a grainy look, with jerky, disjointed cuts--making the film often seem more like a home movie than a major Hollywood production. This style allows Erin, George, and the people of Hinkley to become real, as if they were caught on a hidden video rather than playing to an audience. In a particularly powerful sequence, Donnaís husband is captured without sound as he ineffectually screams at the power plant after he learns of his wifeís diagnosis of breast and uterine cancer.
Finney is wonderful as Erinís unlikely partner, an attorney winding down his career who gets caught up unexpectedly in the case of his career, by a woman for whom he has no context. Though sometimes it seems that Ed is merely along for the ride, Finney finds the manís passion and his surprise at finding abilities he did not know he possessed.
Though the trajectory of the film may be familiar, the strength lies in the subtle character work of this strong ensemble, ably supported by the collaboration of a strong production team.





[rating: 3½ of 4 stars]