M O V I E R E V I E W B Y C R I S S A - J E A N C H A P P E L L
"I used to think if you fell from grace, it was one stupendous error--or else an unfortunate accident. But when the fall happens, it can happen anywhere, and so gradually, you don't necessarily sense the matter. You see, it takes at least two, generally three things to alter the course of life. You slip around the truth once, and then again, and maybe one more time, until there you are, feeling for a moment that it was sudden--your arrival at the bottom of the heap."
--Jane Hamilton, A Map of the World
Once upon a time, movies were ready-made daydreams that showcased extraordinary lives. A 1925 Paramount ad encouraged audiences to "go to a motion picture…and let yourself go. Before you know it, you are living the story--laughing, loving, hating, struggling, winning! All the adventure, all the romance, all the excitement you lack in your daily life are in--Pictures. They take you completely out of yourself into a wonderful new world…Out of the cage of everyday existence! If only for an afternoon or an evening--escape!"
The concept of "escape" is still central to Hollywood. Only the exceptional movie involves real human beings struggling in a complicated world. People are either completely good or bad. Movies provide a Utopian translation of life. Problems loom more intense than everyday reality. In recent years, Hollywood has ditched its star-dusted damsels for a new brand of heroine--the humble homemaker. Former glamour-pusses like Michelle Pfeiffer or Madonna (new moms themselves) muck around in navel-flashing jogging suits with strategically-placed stains, tending to moppets who holler such endearing phrases as, "I hate you, Mommy."
Domestic angst has replaced post-war distress. Witness the modern-day existentialist, troubling herself over P.T.A. meetings while secretly longing for something more fantastic. In typical movie fashion, the heroine of A Map of the World, admits that motherhood isn't always much fun. Soon the cinematic gods have declared a virtual plague of disasters upon the outspoken woman, as if punishing her honesty by sweeping away what she takes for granted.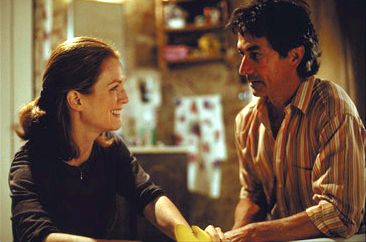 Julianne Moore and David Strathairn in A Map of the World.
(© 1999 First Look Pictures. All rights reserved.)
Sigourney Weaver has portrayed all sorts of steely-spined mothers (most memorably, the "mother" of mankind who hunts a slavering, insectoid mother-alien). In Scott Elliott's incoherent adaptation of Jane Hamilton's popular novel, she plays Alice Goodwin, a city-slicker turned reluctant farm wife. Her husband, Howard (David Strathairn), has always dreamed of running a dairy in rural Wisconsin. Their humdrum existence is peppered by a brood of unruly children, the eldest fueled by pre-adolescent gloom. Emma dumps her cornflakes on the floor and refuses to speak without exclamation marks. It's clear that the patter of little feet has become a stampede. In scenes where the Goodwins throw a party with another young couple (Ron Lea and Julianne Moore), a whispery discussion concerning sexual antics is interrupted by a stinky diaper. Later, the same neighbors will ask Alice to babysit so they might savor a romantic afternoon. The only time Alice and her husband engage in marital bliss is before bed (once the kids have nodded off). In reference to her bratty first-born, Alice admits, "Sometimes I don't even like her."
During a swimming outing at a nearby lake, Alice looses sight of her best friend's little girl. Her distraction doesn't last long, but it gives the child enough time to slip underwater and drown. Just when the film seems intent on resolving the emotional rift between the two mothers, it introduces us to another mother--the trailer-trash girl whose troubled son accuses Alice, a school nurse, of sexual abuse. Other claims follow suit. Alice is carted off, Crucible-fashion, to the county lock-up. Her laconic hubby is left alone to tend the traumatized household.
While the detail-rich novel unfolds into duel psyches (the wife's first-person perspective switches to the husband's), the cinematic version sticks with the wife. Unfortunately, this means a lot of "motivational" jail sequences in which Alice bonds with her young, black, Oprah-worshipping sisters. (Is it any surprise that Oprah plugged the book's author on her talk show?) What's lost is the insight received from Howard (as caretaker) and his newfound appreciation for his wife's former role.
Weaver's high-strung performance doesn't lend much complexity (or logic). One minute, she's careening around her jail cell with a pink bandanna knotted above her beady eyes. Next, she's comparing imprisonment to a desert island and purring statements in court that leave her slick lawyer (Arliss Howard) gasping. Suspenseful scenes from the novel have been hacked into clumsy flashbacks (where clues are literally given one slow-motion frame at a time). This isn't the easiest book to dramatize onscreen, with all its luscious interior monologue. Better that Elliott, a stage director with no screen experience, had omitted his Hallmark-card voiceovers: "There is so much good, and if we're not careful, it can slip away from us." In this case, a mother's guilt is manifested in self-fulfilling prophecy. If movies insist on portraying "everyday life" as something to escape, where else can we turn but inward?



[rating: 2 of 4 stars]
---
WEB LINK:
Movie Studio Web site: First Look Pictures