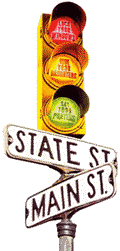 M O V I E R E V I E W B Y D A V I D N G
State and Main is David Mamet lite, a warm-hearted satire about moviemaking that is witty and uplifting. Directing from his own original screenplay, Mamet is at that point in his film career where he knows the ins and outs of the Hollywood machine but can still keep his distance. His characters cover the usual industry archetypes, from the Jewish megalomaniac producer to the faux vulnerable leading lady, but they all speak with that unmistakable Mamet tone, a sardonic coolness with a confrontational bent. His screenplay, composed almost entirely of snappy one-liners, doesn't go for Hollywood's much-ravaged jugular. Unlike Robert Altman's The Player or the Coen Brother's Barton Fink, State and Main prefers quirk to dark cynicism, portraying its Tinseltown stooges as a bunch of lovable, quick minded buffoons.
The movie follows a film crew as it scouts locations in Waterford, Vermont, a small town that is filled with all the things a small town in supposed to have: a town hall, a fire department, and most importantly, an old mill. Or rather, it had an old mill. The mill burned down forty years ago, much to the dismay of the film crew, who're in town to shoot a movie called The Old Mill. It's just one of the many obstacles that the director played by William H. Macy must surmount. Armed with a smile and a cell phone, he orders the screenwriter (Phillip Seymour Hoffman), a sweet-natured novice who just wants to make a good movie, to rewrite the script. Having lost his typewriter, the screenwriter befriends the local bookstore owner (Rebecca Pidgeon) who also happens to be an amateur playwright. Their friendship, which turns into a romance, enrages Pidgeon's boyfriend (Clark Gregg), a self-absorbed city councilman who is butting heads with the film's producer (David Paymer). Add to that the arrival of the film's stars, an aging heartthrob (Alec Baldwin) who also happens to be a pedophile, and an anorexic airhead (Sarah Jessica Parker) whose refusal to do a nude scene brings the production to a halt.
The acting is uniformly excellent, particularly William H. Macy's performance as the world weary director around whom all of this chaos must swirl. A Mamet veteran of stage and screen, Macy delivers his lines with a deadpan face that tells us all we need to know about his character. His delivery is devoid of flourish, as is Rebecca Pidgeon's whose charming all-American girl gives the movie an emotional center. Speaking in her usual chipper monotone, Pidgeon avoids what is obviously there and does everything short of winking at the audience. Her scenes with Hoffman (who makes an unlikely but effective romantic lead) are breezy but never frivolous. When they devise the perfect ending to his screenplay, we sense that these two smart people deserve each other.
Mamet keeps the jokes coming at an agreeable clip. The most successful gags are the recurring ones, including a product placement for a dot-com company in the movie-within-the-movie (which is set in the 19th century!) as well as the ubiquity of matzoh around the set (which the WASPish locals develop quite a taste for). State and Main may disappoint those who enjoyed The Winslow Boy's subtlety or the labyrinthine plot turns of The Spanish Prisoner. As the title indicates, State and Main deals in icons, be they from Hollywood or Waterford, Vermont. Mamet is working with generalities, but his deployment is specific and focused. Listen closely to the way Macy ignores the production assistant whose wife is going into labor or the way Pidgeon deals with Hoffman after catching him with the leading lady. They react in unexpected ways, often with intelligence and humor. While their characters are clichés, what they have to say is always original. State and Main is proof that movies don't have to be mean-spirited to be smart.





[rating: 3½ of 4 stars]
---
WEB LINKS:
Movie Studio Web site: Fine Line Features
Movie Web site: State and Main

---
Photos: © 2000 Fine Line Features. All rights reserved.