Sometimes you have a desperate urge to get away from it all, and especially from the Gladiators and other movie fare of the American mall. A perfect escape is an international film festival at an exotic foreign locale. Perhaps not a super bazaar like Cannes, a hyped-up Hollywood, where it's not writers but municipal bus drivers who were on strike last year. In that glitzy human anthill, hordes of producers madly chase distributors, starlets chase producers, and paparazzi chase both stars and sufficiently bared starlets. Cannes is to other festivals what New York is to other cities, but we are looking for something more low-key, more compact, more accessible and manageable – Istanbul, for example. Or, officially, International Istanbul Film Festival.
As few other cities, Istanbul is its geography: spanning two continents, it's a cosmopolitan cappuccino, where the whipped cream of the West barely covers the darker brew of the Islamic East. The festival's base is Beyoglu, a 19th century area and a long-standing nexus of urban sophistication on the European side of the Bosporus, and most of the festival's venues are lined up along its main drag, Istiklal Caddesi. Here, thoroughly modern Mehmets file past the brightly lit Benetton and Diesel store windows, instant-messaging on their cellulars, but so do women with Islam-prescribed covered heads and bodies, while Kurdish urchins, high on sniffed glue, swarm underfoot, begging you to buy packs of tissues -- or just begging. In film terms, it's Bicycle Thief superimposed on a Western street circa 2001. On side streets, spits with kebabs rotate, old men sip tea over backgammon boards, and rock clubs blare techno music. (Officially, you cannot sell liquor within 200 meters of a mosque, and mosques are indeed numerous; but laws come with loopholes, and watering holes are not hard to find.) Venture further along the streets steeper than anything in San Francisco and just wide enough to accommodate a compact car and an anorexic model. Suddenly, a street would fork into one plunging farther down – and another one that leads uphill at an angle as steep. At night, with streets abandoned and lights rare, it can be an adventure.
The festival programs fit snugly into the environment. Ranging from populist Turkish comedies to Francois Ozon, the pet director of Paris's smart set, 175 films played on 5 screens: both Turkish and international competitions, as well as special programs, such as tributes to Marcello Mastroianni and Bertrand Tavernier. Held since 1982 in late April, the festival has drawn a modest list of international cineastes (a popular yardstick for a festival): Robert Wise, Michelangelo Antonioni, Claude Sautet, Elia Kazan, Peter Greenaway, Istvan Szabo, Bertrand Blier, Jerry Schatzberg, etc. This year, the glamour was provided by Roger Corman, the bad old boy of American B-movies, who showed up for a Special Lifetime Achievement Award, as well as by the Taviani Brothers (Padre Padrone, etc).
Yet, because the Festival is truly international, it was not all buzzcuts and blue jeans; the jury included Marziyeh Meshkini, an Iranian director who on all occasions wore an extremely concealing, head to toe, black outfit; though she was so attractive as to make it look glamorous. She was also constantly followed by a young man who seemed to speak neither English nor Turkish nor have anything to do with film. Some said he was her brother (ah, those Westerners with lust in their hearts!); I suspect it was his job. Time Warp: years ago, Soviet artists had to travel abroad with "colleagues" who did not know Godard from Truffaut. I knew better than to grill Ms. Meskhini on how she "really felt," what with her picture The Day I Became a Woman (it has just opened in New York) explicitly exploring the position of women in Iran – but a polite smile never left her face.
Running ahead, Iran also accounted for the sole amusing moment at the closing ceremony: a special FIPRESCI award went to the Iranian film, Smell Of Camphor, Fragrance Of Jasmine (already released in the US). Since the director, Bahman Farmanara, was not present, the award was handed to Iran's cultural attaché. This young man picked up the prize and headed back, oblivious to such Western conventions as saying a few words into the mike. ("Cultural Attachés Sought for Oscar Awards!") The emcees gestured gallantly -- this diplomat did not seem to speak any infidel languages -- and he consented to return and satisfy the protocol. In Farsi. The content of the speech remained a mystery to the audience, though the brave Turkish announcer "translated" it as "thank you". The irony is that the film honored was quite critical of Iranian society. I'm sure Mr. Farmanara had a ball when he was told the story.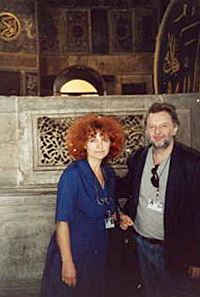 Hanging Out with the President: Nana Djordjadze and a media member at the Hagia Sophia mosque.

On the business side, the Festival is a big government project, with the closing ceremony broadcast live on TV from a mammoth auditorium, but it attracts big-time private sponsors as well: banks and cellphone providers and every major media outlet, whose commitment was crucial in view of the recent financial meltdown – Turkish lira had gone into a free fall only weeks earlier. The meltdown made Turkey a shopper's paradise, but the attraction went beyond money: the ever-smiling staff went out of their way to meet the guests' every whim, and the small scale of the event translated into intimacy unthinkable in Cannes or Berlin. The access to main players was easy and unhampered – by contrast, imagine hanging out with a President of the Jury at Cannes! Here, the Jury President Nana Djordjadze from Georgia (she directed A Chef in Love and 27 Stolen Kisses) mingled easily and charmed everybody, including the media. The journalist cadre bonded mercilessly, too. It is quite a community, these inveterate souls, the doughty vets of film-writing front, who valiantly criss-cross the globe from one festival to another; and they all have stories to tell about what really happened in Goteborg or Thessaloniki.

Yet the single most striking feature was the shows themselves. Even with Miss Congeniality playing in a multiplex down the street, the large festival auditoriums were sold out, day and night. Where in the States can you see a boisterous rock-n-roll comedy from Iceland (101 Reykjavik by Baltasar Kormakur, out in US theaters this summer) outdrawing a Hollywood hit?

Turkish films are popular, too, although the national film industry has some way to go. This country is in too much of a socioeconomic turmoil to afford films that are just films, unburdened by social message or the need to pander to the lowest common denominator. Thus Turkish films fall into two categories: "important" ones that "raise issues," and pure entertainment of TV quality (Turkish TV, that is). Among the former, the quality varies, too, though not one this year has risen to the level of Yesim Ustaoglu's Journey to the Sun, a small jewel of a film that won the prize here two years ago – and earlier this year played in the US as well. It takes some film to get the American art-theater crowd involved in the woes of a modern-day Turkish Job whose biggest problem is that he looks like a Kurd (now, that's profiling!)

The odyssey of Ms. Ustaoglu's hapless hero consisted of taking a coffin containing a friend's body to be buried in his native village. The motive is the semi-mystical attachment to "soil" that recurs in other Turkish entries as well. The plot engine of Balalaika, a melodrama that interweaves a story of a Turkish family with that of a busload of Russian prostitutes – no Turkish film is complete without "Natasha's," as they are pejoratively called here – consists, again, in a man's remains being transported back to Turkey. In Away from Home, an elderly émigré returns from Russia to spend his last years in his native village. In the latter, the conflict is set in stark, in-your-face terms: either the hero, a selfish Istanbul yuppie, sells the farm and uses the proceeds to buy a place in New York, or he lets the émigré, a distant relative, replant the olive trees and live out his days in this bucolic environment.

We hear a lot about this "attachment" in connection with the Israel-Palestinian conflict, and one cannot help but conclude that this pre-industrial urge is indeed a big thing over there, though one that few modern-day Americans, constantly on the move from one conglomeration of strip malls to another, and increasingly ignorant of their history, will find an easy one to digest. It would also help, as with any issue-laden film, if the sometimes stentorian style did not overshadow the simple pleasures of storytelling. Alas, Semih Kaplanoðlu, the director of Away from Home (which shared the prize for the best Turkish film), cannot help preaching to the converted. The film opens promisingly, as the old émigré, tough as nails, arrives from a harsh post-Soviet state to what seems like a new hedonistic Turkey; the leathery face of its star, Erol Keskin, speaks volumes (he won the prize for Best Actor). Yet as we arrive in the village and the half-ruined old farm, every scene takes twice as long as it should, the camera pans and lingers, and the pompous music score takes over the action.

Ali Özgentürk's Balalaika, opens on a promising note, too: the three Turkish brothers, locked in a family conflict, are forced to honor their father's last wish and transport his friend's remains back to Turkey. But the bus they take in Batum in Georgia fills up with lovely Russian girls, forced to travel to Turkey to make money selling their bodies. Each of them has a story to tell, romances take root, and the two groups begin finding the common human ground; but towards the end the carefully built interaction deteriorates into a Bombay-style melodrama, replete with a fat murderous pimp, a white Mercedes limo, and far too many closeups of bulbous tears in the men's faces. The only facile conclusion to be made is, uh, it takes a death of a Russian whore with a heart of 64-carat gold to bring a Turkish family back together.

Turkey's modern status as a country trying to break out of the developing world and into the developed one can be illustrated by its newspapers' front pages, where one minister after another keeps getting caught in bribery scandals. (The one caught during the festival was the ex-Minister of Culture, extradited from New York to stand trial for laundering millions of dollars.) One Turkish film that reaches up from patriarchal "soil" values into this unsavory modernity with a vengeance is Dervis Zaim's Elephants and Grass (as in "when elephants" – i.e. the powers-that-be – "fight, the grass" – the little people – "get trampled"). This is a fast and furious thriller très noir, shot and edited in MTV-like pace. There are no good "elephants" here: in the all-against-all Hobbesian conflict, cabinet ministers, security apparatus, mafia-connected industrialists, Kurdish guerillas, and even the Russian and Columbian mafias – all plot constantly and pull the trigger at every opportunity. The grass that gets trampled is personified by a young girl (played by Sanem Çelik, a local TV star with supernaturally sad eyes, who won the Best Actress award), an aspiring marathon runner who tries to get treatment for her wheelchair-bound brother. Elephants is a smart picture that deserves to be seen – if not "for its courageous approach to a social and political subject in a tense style and with a professional direction of its actors," as the FIPRESCI Jury formulated as it gave the film its award, but simply as a good action flick.

Elephants can be an action flick by me, but by Turks it's still an "issues" film, and, as such, it is routed at the box office by the entertainment fare, where issues are obscured by slapstick and sing-and-dance routines. Here we deal with an ethnic popular culture, hard for a foreigner to access and perceive on Turkish terms. Take Abuzer Baklava, named after its eponymous character, who, judging by his girth, does consume a lot of Turkish sweets – an abuser of baklava indeed. In the film, Abuzer plays a sociology professor, whose wife is killed by a street gang. In response, he wants to create a re-education facility for street kids, and, to raise money, becomes a folksinger so wildly popular that… you can figure out the rest. The mafia, the corrupt government officials, etc. all make appearances, but this time, instead of shootouts, we have hilarious song-and-dance numbers with screaming fans. The distance between Turkish pop and Hollywood is considerable, but the scenes of Abuzer's own talk show are hilarious in any culture and would qualify as a feature for Saturday Night Live.

Anyone dying to put in his two cents' worth of wisdom in the Hollywood-as-Juggernaut-on-local-cultures debate should keep in mind that films such as Abuzer have a core ethnic audience and thus are impervious to the onslaught of Gladiators and Titanics. It is "serious" films such as Away from Home and Elephants and Grass that are trounced by Hollywood, which creates an unhappy dilemma for any local filmmaker: either he goes for the lowest common denominator, or he has to ask for a handout, whether from the State or from a private source. Not that this dilemma is unfamiliar in the West, but in a developing country like Turkey it becomes especially poignant.

While it is possible to jury-rig a nickel-and-dime theory of Turkish film (like the one you read above), no such thing applies to the Festival's International competition. As befits a small festival, the entrants were wildly all over the map. The only two films familiar to the US audiences were Terrence Davies' The House of Mirth and the already mentioned Iranian Smell Of Camphor, Fragrance Of Jasmine.

The most distinguishing feature of other entries was their exotic origin and, in many cases, inaccessibility to American viewers. There was Wojaczek from Poland, which had surfaced at MOMA's New Directors series, an insufferable black-and-white saga of a poet maudit in Socialist Poland. From Russia came The Captain's Daughter, a feeble stab at a historical epic. But there was also a black comedy from Iceland, Baltasar Kormakur's 101 Reykjavik: a wild concoction of sex-drugs-booze-and-rock'n'roll. As a mother-son-and-lesbian-lover triangle, it owes a lot to Pedro Almodovar's farces (and stars Victoria Abril, too). And there was a very funny Belgian comedy, Everybody Famous! by Dominique Deruddere; a Star is Born, Belgian style, played out against a landscape of talk shows and showbiz wannabes that is so familiar that someone has already bought US remake rights – can there be a higher degree of recognition for a European pop-culture movie? It will get made, probably starring Jim Carrey in yet another moron-with-a-heart-of-gold part and Britney Spears as a teenage throb who would rather fix cars then gyrate her hips, but I'm not betting on the cynical black humor of the original surviving the transition. You have to see it, as well as its aesthetical predecessor, Man Bites Dog, if only to shake your head and wonder what it is in the Belgian pommes frites and beer that makes them one of the weirdest peoples on earth.

As with any other festival, you just never know what entry will really strike home. In this case, there was an unusually big showing from Germany. There was an official entry by Jan Schütte called Farewell, a day in the life of a very old, very sick Bertoldt Brecht. It takes place in the '50s, around the kitchen table at an official East German dacha, where Brecht and his "harem" (The Stolid Wife, The Neurotic Wife, The Friend's Wife, and AYoung Actress) lash out against one another. Some tension is added through the semi-visible presence of Stasi, who are about to arrest Brecht's friend, who also participates in this kitchen debate – but it doesn't save the day. The writing is stilted, as is the acting. Brecht is lucky he didn't get to see it. I stepped outside, caught a look of the Topkapi Palace on the skyline, and wondered if the Ottoman Sultans could teach our cultural icons a thing or two about the art of harem maintenance.

Did the Gentle Reader, too, cheer in November 1989, as you witnessed the destruction of the Berlin Wall? Did you ever give a thought to those who did not? Who are they? What are they? How could they…? Are they human? Two very good German films deliver a scalpel-precise analysis of Two Women Who Didn't.

Volker Schlöndorff's Legends of Rita, was not, strictly speaking, in competition, though it played at the festival. (It also played in the US without much notice). It is based on the real story of Inge Viett, a German terrorist from the Red Army faction who sought refuge in East Germany and spent many years there under the Stasi protection. Finally the Wall came down… Rita is a serious and yet an eminently accessible meditation on the roads we take and the lives we choose as we try to reconcile our ideals with reality, and how all of this was distorted by the Cold War.

For a card-carrying German intellectual like Schlöndorff, it was a heroic picture to make, since it – inevitably – made him a target of both the Left ("how dare he question the anti-imperialist struggle?") and the Right ("how dare he show a murderer – and even her Stasi handlers -- as human beings?") Which, in my book, is all an artist could ask for. If anything (I never thought I'd write this), the movie is just a tad too slick, too smooth. I don't have a problem with Bonnie-and-Clyde bank-robbing scenes, shot with the energy and precision that any Hollywood wunderkind could envy; but surely the process of the heroine's acclimation in the workers' paradise had to be a little rougher and involve a bit more reflection than Schlöndorff shows.

And, finally – ta-dah! (Yes, the structural resemblance between this article and an awards ceremony is intentional) The best film of the festival – and the jury agreed with me. The German title of Oskar Roehler's film is Die Unberührbare, "The Untouchable" – clearly it needed to be changed in order to get US distribution. So, No Place to Go – works out fine. Once again, it is based on a real story of a West German writer called Gisela Elsner – and made by her own son. For a variety of reasons, Ms. Elsner was supported by her East German publishers, the only ones who would publish her books. Suddenly, the Wall crumbles. Now what?

The director and the lead actress, Hannelore Elsner (no relation to the protagonist, still…?) do an almost superhuman job as they introduce their character as a monster, an evil witch in her well-appointed Munich castle, who is filled with terror and hatred at the sight of the people dancing on the Wall. In a sense, it's her own life that is being smashed with picks and shovels, the destruction is toasted with champagne, and no amount of alcohol and cigarettes and barbiturates can shield her from the new reality. And this is just the beginning. Mr. Roehler spins out one emotionally painful scene after another as his heroine runs every which way, trying to recover her humanity in the face of advancing history. Unlike Schlöndorff's Rita, she has no warrant for her arrest; but she has something more horrifying: the judgment of her own conscience. As in real life, there is no happy end here.

This is a tough film to watch, but those brave enough to look will not be able to take their eyes off the screen, and will be rewarded generously. Ms. Elsner's performance, teetering on the brink of going over the top, is something to behold (she did win the Best Performance award), as she mines her character's psyche mercilessly, and hits the paydirt every time. One such discovery is enough for any film festival.



---
David Gurevich is a freelance writer. His work has appeared in The NY Times, The Boston Globe, The Wall Street Journal, and The New Criterion.
Web site for the Istanbul Film Festival:
http://www.istfest.org/film/eng/festivalFrameset.htm