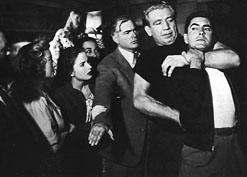 Nightmare Alley
(directed by Edmund Goulding, 20th Century Fox, 1947)
In the world of film noir, heroes didn't just fall, they often got their noses ground in the dirt, as with Stanton Carlisle (Tyrone Power), a small-carnival operator who gradually loses control of the carnival and begins his fall, to where we ultimately find him playing the geek in the sideshow and biting the heads off of live chickens. Based on a screenplay by Jules Furthman and photographed by Lee Garmes, Nightmare Alley is a harrowing, disturbing portrait of a man's fall to the depths of degradation, and it's all the more shocking with pretty boy Power in the lead.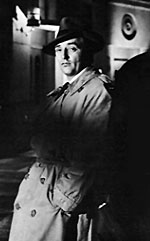 Out of the Past
(directed by Jacques Tourner, RKO, 1947)
An essential noir and one of the great archetypal noirs. Out of the Past emphasizes once again the power of the past, that past indiscretions cannot be forgiven. In this case, Robert Mitchum plays Jeff Bailey, who runs a small service station in rural California, but one day a thug shows up looking for Jeff and bringing a message from the racketeer, Whit Sterling (Kirk Douglas), that Jeff once worked for. It seems you can never escape your past. Thus starts to unravel a series of flashbacks telling us how Jeff got into the mess he's in. One of the great femmes fatales, Jane Greer, is at the core of his woes. It seems Whit hired Jeff to find Kathie after she took off with Whit's money and fled to Mexico, but once he found her, he fell in love with her instead. Robert Mitchum was one of the great noir heroes. With those sleepy eyes and his laconic manner, he expressed the weight of the past and the hold it takes upon us.
Raw Deal
(directed by Anthony Mann, Eagle-Lion, 1948)
Before moving on to Jimmy Stewart westerns and, in the '60s, bloated epics like El Cid, Anthony Mann directed several B-movie film noirs, including Desperate, Side Street, and T-Men. Raw Deal is one of his best. It reverses the hero-femme fatale equation by giving us a gangster (Dennis O'Keefe) who upon breaking out of prison seduces his lawyer (Marsha Hunt) into his world of violence. At one point, she even kills for him, finding murder to be a perfect way of saying "I love you." Photographed by the great John Alton.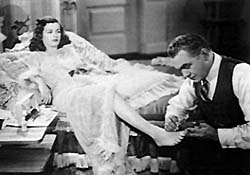 Scarlet Street
(directed by Fritz Lang, Universal, 1945)
All he wanted was to paint pictures, but cheap hoods Kitty (Joan Bennett) and Johnny (Dan Duryea) see a patsy ripe for picking. With Kitty posing as his mistress, Kitty and Johnny bilk him for every penny he has, which isn't much--so he turns to extortion. In the process, Christopher is reduced to Kitty's servant, painting her toenails and submitting to her tirades. Kitty is one of the nastiest women in the history of cinema. When he learns of Kitty's charade, Christopher erupts in violence. Scarlet Street is a harrowing look at a small man, tied to a nitpicking wife and a job without a future, who finds sudden happiness in his art and with a woman he idealizes only to discover it's all a sham.
Stranger on the Third Floor
(directed by Boris Ingster, RKO, 1940)
Arguably the first real film noir, Stranger on the Third Floor features a dream-like, expressionistic world as photographed by Nicolas Musuraca (one of the great cinematographers), with art direction by Van Nest Polglase (who would work on Citizen Kane). Late one night, the hero (Mike Ward) sees a stranger (Peter Lorre) lurking around an apartment building. He fears his neighbor is dead because he doesn't hear the neighbor's snoring and thinks the stranger may be responsible. He falls asleep, though, and dreams that he has been arrested for murder. When he wakes, he runs next door and finds the neighbor's throat slashed and now the police believe he is responsible for the crime. Told in only 64 minutes, Stranger on the Third Floor is drenched in paranoia.
This Gun For Hire
(directed by Frank Tuttle, Paramount, 1942)
Based on the novel by Graham Greene, This Gun For Hire gives us a mentally-unbalanced assassin named Phillip Raven (Alan Ladd) who only loves cats. After he commits a murder and gets paid off, he soon finds out he has marked money, with the police hot on his trail. And things get complicated further when he meets Ellen Graham (Veronica Lake), who is all come-hither looks as she peeks from beneath her blonde curls. She also happens to be an undercover government agent looking for a Nazi spy. Magnificent photography by John Seitz.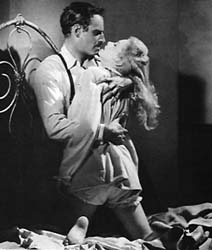 Touch of Evil
(directed by Orson Welles, Universal-International, 1958)
The great swan song of the film noir period. An audacious and super-stylized noir that paints a world seething in corruption and violence. The incredible opening tracking shot is legendary (thanks to Russell Metty's camerawork) as the camera shows us a bomb being planted on a car and the car's route through town. The camera dips and swoops through the squalid streets as Mexican detective Charlton Heston (!) and his wife Janet Leigh walk across the border--until the bomb explodes and a man is killed. Touch of Evil gives us a grimy, inhospitable world filled with psychotic biker gangs, lesbian tough girls, mentally-disturbed motel managers, and racketeers with kindly names (Uncle Joe). You'll find Marlene Dietrich, Zsa Zsa Gabor, and Joseph Cotton in bit roles, while Orson Welles himself plays the fat, corrupt police detective, Quinlan, who routinely plants evidence. A stunning conclusion to the film noir era.
When Strangers Marry
(directed by William Castle, Monogram, 1944)
Before he directed The Tingler and other cult horror movies, William Castle directed several B-movies, including this one, When Strangers Marry (aka Betrayed). Kim Hunter and her new husband, Dean Jagger, plan to be reunited at a hotel. But he doesn't show up. She learns that a man has been robbed and killed in one of the hotel rooms. After her husband calls her and asks to meet her secretively, she begins to suspect that he is the murderer. Robert Mitchum co-stars as her old boyfriend.
---
These noirs are just the tip of the iceberg. Many others merit mention, such as Phantom Lady, My Name is Julia Ross, The Woman in the Window, The Blue Dahlia, The Dark Corner, The Postman Always Rings Twice, The Strange Love of Martha Ivers, Body and Soul, Brute Force, Crossfire, They Live By Night, T-Men, Caught, Criss Cross, The Set-Up, Scandal Sheet, Human Desire, The Killing and many, many others (not to mention the many movies with noir overtones which could arguably be called noirs, such as High Sierra, The Maltese Falcon, Key Largo, Ace in the Hole, Sunset Boulevard, and White Heat).
If we haven't mentioned one of your favorites, we're sorry, but better yet, let us know about your favorites, both the classics and the underrated gems. Just send us an e-mail at info@imagesjournal.com. We'd love to hear from you.
page 2 of 2

---