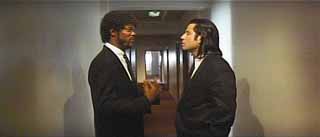 Jules and Vincent discuss foot massages in Pulp Fiction
Pulp Fiction nicely echoes Truffaut's diversions. After the opening credits, we join Vince and Jules in an atypical gangster car, a Chevy Nova, cruising down an LA street--not on a rain soaked noir night, but in the early morning sunshine. They discuss Vince's latest trip to Europe, the nature of fast food in France, their boss' wife, and foot massages versus cunnilingus. Eventually, Jules says "let's get into character," and the gangster film begins proper as the two confront and then blast a group of double-crossers, their offbeat banter being replaced by more characteristic hitman dialogue.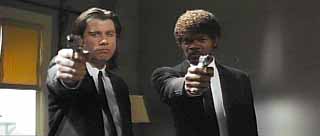 Jules and Vincent get in character in Pulp Fiction.
compare with . . .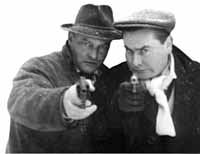 Ernest and Momo in Shoot the Piano Player.
Later in the film, the violent chase between Butch and Marcellus Wallace is suddenly interrupted by Maynard and Zed, the two pawn shop rapists. Instead of a tense showdown between the two protagonists, Tarantino leads us on a wild detour into the basement of the pawn shop. After a brutally hilarious few minutes, the detour ends and Butch and Marcellus make their peace.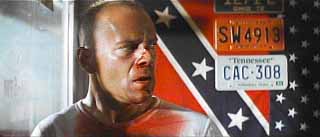 Bruce Willis at the pawn shop door in Pulp Fiction.
As with Truffaut's diversions, Tarantino breaks the contract by giving us characters and situations that are decidedly outside of the film genre's contract. However, in the case of Butch and Marcellus, it is a necessary diversion that ends up resolving their differences more effectively than slugging it out. Once again, these digressions do little for the plot but add considerably to the mood of the film.
page 2 of 3