In both films, ostensibly tense sequences are not filled with the usual nail-biting dialogue, but hilarious diversions. Ernest and Momo argue about whether or not to show Charlie their guns as they kidnap him; later as they kidnap his little brother, they run out of gas and must push as the boy happily steers and urges them to push faster. Besides the foot massage debate outlined above, Jules and Vince have to fear the arrival of Jimmy's wife as they dispose of Marvin's bloody remains; Vince is almost literally caught with his pants down by Butch as he comes out of the toilet in Butch's apartment and is blown away. Not your usual gangster machismo indeed.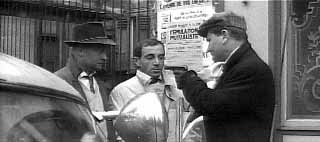 Ernest and Momo kidnap Charlie in Shoot the Piano Player.
Two brief moments in each of the films act as small piece de resistances in the respective directors' desire to show us--as if further proof were needed--that we are watching films that are subject to the whims of eccentric directors, not the constant illusion of reality most genre films ask us to embrace. In Piano Player, Fido doubts that Momo's scarf is made of metal as he claims; "I swear on my old lady's head," Momo exclaims, "May she die if I lie!" Instantly we cut to an old lady keeling over.
In Pulp Fiction, as Vince and Mia pull into the crazy Jackrabbit Slims, Vince hesitates over Mia's choice of restaurant. She says "hey daddy-o, don't be a--" and then draws a square with her index fingers--temporarily leaving a dotted outline on the movie screen. As with Truffaut's old lady, this is a break with the onscreen reality most films ask us to accept. Both films are thus given a humorous self-consciousness here and throughout.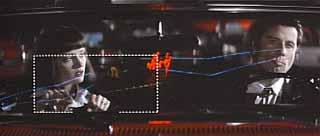 "Hey, daddy-o, don't be a--" says Mia in Pulp Fiction.
On the surface, both Truffaut's and Tarantino's films may appear to belong to the realm of innovative entertainment (or, as in Tarantino's case, pop culture); in fact, they are more experimental than they appear. While he certainly deserves credit for being a modern and influential trailblazer, Tarantino has really been passed the torch from Truffaut and Godard; not all of his fans realize the debt his films have to the French New Wave. Tarantino does, however: just one of the many in-jokes Tarantino works into Pulp Fiction is a cute homage to Truffaut, when an exasperated Jimmy says "don't Jimmy me, Jules," a reference to Truffaut's Jules And Jim. In the dazzling world of Tarantino, LA is just a few miles down the road from Paris.
page 3 of 3

---
Go to Sources.
---
Mick Sleeper has a BA in Film Studies from the University of Alberta, Canada. He is currently doing post production work on his first short film, Watercolor.