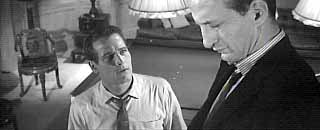 George C. Scott with Paul Newman in The Hustler.
1963-64
Scott's first leading role was opposite Kirk Douglas in an adaptation of Philip MacDonald's mystery thriller, The List of Adrian Messenger (1963), directed by John Huston. Scott played detective Anthony Gethryn. The film featured cameos by Tony Curtis, Burt Lancaster and Frank Sinatra, in elaborate makeup disguises. "Kirk (Douglas) produced that," Scott said. "Huston was a remarkable creature. He wrote in several fox hunts (in the script). I had never ridden a horse, but I lied and told him, sure, I could ride. I was thrown off that damn horse three times in one afternoon, and cracked three ribs. I didn't do much riding after that," he continued, laughing.
The role of General Buck Turgidson in Stanley Kubrick's Dr. Strangelove (1963) is one of Scott's favorites. "I was almost ashamed to take the money, I had so much fun making that," Scott said. "It had a great cast." Concerning the oft-told story that Peter Sellers supposedly modeled the title character after Henry Kissinger, Scott replied, "I never heard that, but I wouldn't be a bit surprised. Stanley (Kubrick) was a genius," he said, chuckling, "but he was as crazy as a shithouse mouse."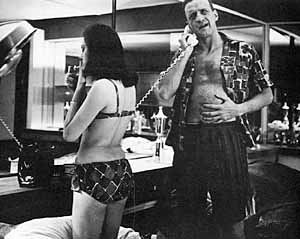 George C. Scott with Tracy Reed in Dr. Strangelove.
During this period, Scott also appeared on television. One particularly memorable TV role was as Neil Brock on the series East Side, West Side (1963-64). "That was a very avant-garde show for the time," Scott recalls. "We had the first black person on a series, Cicely Tyson. We lost the Southern affiliates because of that. We had some great actors on there, before they were well-known--people like James Earl Jones, Gene Hackman and Bob Duvall."
1965-66
Scott continued to exercise his comedic acting skills in the theatrical film comedies The Yellow Rolls-Royce (1965), directed by Anthony Asquith, and Not With My Wife You Don't (1966), directed by Norman Panama. He also appeared in 1966's The Bible, giving a dynamic performance as the patriarch Abraham.
1967
In 1967, Scott delivered one of his most enjoyable performances as a professional con-man in The Flim-Flam Man (1967). "Irv Kershner directed that," Scott recalled, "and it was shot in Kentucky--beautiful country." This movie marked the debut of Michael Sarrazin as Mordecai Jones' (Scott's) assistant. "I thought Michael Sarrazin did a wonderful job," Scott said. "I had great hopes for him." Regarding the use of heavy makeup for the character, he said, "No, the makeup was no problem. I was used to a lot of makeup from working in the theater. In fact, I'd used the same makeup man for twenty years."
---

You can move through the article by selecting "previous page" or "next page," or you can go to the George C. Scott filmography and select a specific movie.

---
page 2 of 5


© 1997 Paul Riordan. All rights reserved.