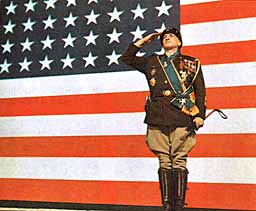 George C. Scott in Patton.
1971
After Patton, Scott was a busy actor, starring in three movies in the next year. First, he starred in the cult classic, They Might Be Giants. Scott played a widowed lawyer, Justin Playfair, who imagines that he's Sherlock Holmes, complete with deerstalker cap and Inverness coat. A psychiatrist, Dr. Mildred Watson, attempts to cure his madness, but soon finds herself caught up in Playfair's whimsical world. "Paul Newman produced that picture; his wife, Joanne (Woodward) was in it (as Dr. Watson). It was directed by Anthony Harvey, a British director. I don't know why it wasn't more successful." When asked how he had approached the part, the actor replied, "I didn't play the character as if I were portraying Sherlock Holmes. I played him as a delusional man who fantasized that he was Sherlock Holmes."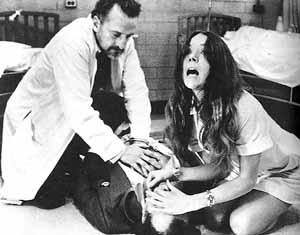 George C. Scott with Diana Rigg in The Hospital.
Also in 1971, Scott starred as frustrated surgeon Dr. Herbert Bock in The Hospital: "Arthur Hiller directed that; Paddy Chayefsky wrote the script--great writing. I enjoyed making that film very much. I enjoyed working with Diana Rigg very much." In addition, Scott appeared as retired gangland driver Harry Garmes in The Last Run: "I played a wheel man. That was lovely; it was shot in Spain by Richard Fleischer, who I worked with again on another picture."
---

You can move through the article by selecting "previous page" or "next page," or you can go to the George C. Scott filmography and select a specific movie.

---
page 3 of 5


© 1997 Paul Riordan. All rights reserved.