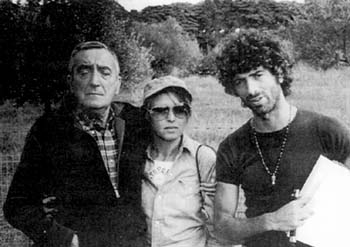 Mario Bava (left) on the set of Rabid Dogs
with actor Aldo Caponi (right)
and continuity girl (name unknown).
Photo courtesy of Tim Lucas.
Mario Bava was born July 31, 1914 in San Remo, Italy--one day after Germany declared war on France and Russia in the wake of the assassination of Archduke Francis Ferdinand of Austria.
He was the son of Eugenio Bava, who was himself an accomplished technician in the days of Italian silent cinema. Eugenio, a sculptor, entered the film business in the early 1910's as a set designer for Pathe Freres, where he learned much about the art of in-camera special effects. Owing to his sculptor's knowledge of light and shadow, Eugenio rose quickly to the rank of cinematographer. In 1912, he photographed the epic Quo vadis?; in 1913, he assisted Segundo de Chomon with the outstanding special effects of Cabiria (notably the eruption of Mt. Vesuvius); and in 1916, he photographed Cenere, the only film ever to star the legendary stage actress Eleonora Duse. Eugenio was lured to Rome to become a film director and made a few movies, but soon retired from the limelight to become the director of optical effects at the newly-formed Istituto LUCE in 1926.
Mario Bava, therefore, grew up in an environment of filmmaking and illusion, learning everything he used in later life at his father's side. He worked for several years as his father's assistant, subtitling feature films for export and animating title sequences for Italian features, until the late 1930's, when the prospects of supporting a wife and family made it necessary for him to pursue a more ambitious career. He began to work as an assistant to some of Italy's finest cinematographers, eventually becoming a director of photography in 1939. Over the years, he shot films directed by Roberto Rossellini, G. W. Pabst, Raoul Walsh and Robert Z. Leonard, and his stylized lensing was critical in developing the screen personas of such international stars as Gina Lollobrigida and Steve Reeves.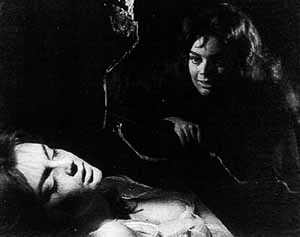 Barbara Steele in Black Sunday.
In 1956, Bava collaborated with Riccardo Freda on I vampiri ("The Vampires," 1957), the first Italian horror film of the sound era--initially as cameraman and optical effects designer, then directing half of the 12-day schedule in only two days, when Freda abandoned the project after being denied an extension. Rescuing other men's films became a habit with Bava, who directed a little of Pietro Francisci's La fatiche di Ercole [Hercules, 1957] and even more so of the Flash Gordon-inspired Ercole e la Reina di Lydie [Hercules Unchained, 1958] "while the director took his siestas." Outraged by the way his unambitious friend was being abused, Freda tricked Bava by hiring him to photograph Caltiki il mostro immortale [Caltiki the Immortal Monster, 1959] and once again abandoning the director's chair after only two days. The film's producer, Lionello Santi, rewarded Bava for completing the film by inviting him to select a property for his directorial debut--at age 46.
A devotee of Russian literature, Bava chose Nikolai Gogol's story "Vij" as the foundation for La maschera del demonio [Black Sunday, 1960], the last great B&W Gothic horror film. An instant international success, the film made an overnight star of British actress Barbara Steele, who was quickly enthroned as the screen's first Queen of Horror. The film's title was a play on the Italian release title of Hammer's The Curse of Frankenstein--La Maschera di Frankenstein--and established an ironic sensibility that was perpetuated in the titles and attitudes of Bava's subsequent work.
Bava was not interested in repeating his success with another B&W horror film, and demonstrated his unparalleled Technicolor prowess with Ercole al centro della terra [Hercules at the Center of the Earth/Hercules in the Haunted World, 1961], a phantasmagorical descent into Hell improvised with leftover props from earlier Cinecitta productions. The title was, again, parodic of Journey to the Center of the Earth, which had been a recent hit in Roman theaters. He returned to B&W one last time with the Hitchcock-spoof La ragazza che sappeva troppo [The Girl Who Knew Too Much/Evil Eye, 1962], an Alphabet Murder mystery that was filmed straight for the European market, and more humorously for English-speaking territories. The former version is now recognized as the origin of the giallo, a peculiarly Italian brand of horror-thriller.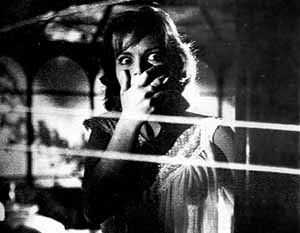 Letecia Roman in Evil Eye.
Bava's next films--I tre volti della paura [Black Sabbath, 1963], La frusta e il corpo [What!, 1963], Sei donne per l'assassino [Blood and Black Lace, 1964] and Terrore nello spazio [Planet of the Vampires, 1965] show him at the height of his creative powers. Bava's increasingly ironic worldview resulted in each of these films ending in the deaths of their lead protagonists, and this downbeat quality--combined with other increasingly adult concerns in his stories--eventually led to the dissolution of his contract with American International Pictures, which had been distributing his films with much success in English-speaking territories. In more and more cases, AIP found they could not rework Bava's increasingly violent and erotic films into kiddie's matinee fodder.
After breaking his AIP contract with the disastrous comedy Le spie vengono dal semifreddo [Dr. Goldfoot & the Girl Bombs, 1966], Bava rebounded with Operazione paura [Kill, Baby... Kill!, 1966], a low-budget Gothic masterpiece about villagers haunted by the ball-bouncing ghost of a little girl, whose apparition compels them to suicide. Oedipal and unsettling, with unexpected sequences of Escher-like dislocations of time and space, the film received a standing ovation at its Italian premiere from Luchino Visconti. Operazione paura was also an admitted influence on later films by Fellini [Toby Dammit, 1967], Martin Scorsese [The Last Temptation of Christ, 1988], and David Lynch [Twin Peaks: Fire Walk with Me, 1991]. Ironically, the production ran out of money after the first two weeks of shooting, and was completed with Bava and his actors donating their time services without pay, out of love for the project.
page 1 of 2


---
© 1997 Tim Lucas. All rights reserved.