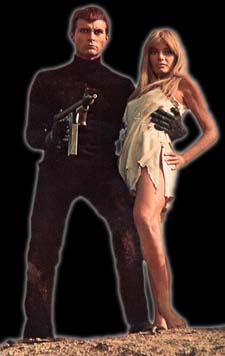 John Phillip Law and
Marisa Mell in Diabolik.
Overworked, distressed by personal problems and upset by the death of his father and mentor in October 1966, Bava avoided the genre for the next two years. He was lured back to work when Dino DeLaurentiis offered him the biggest assignment of his career, Diabolik [Danger: Diabolik, 1968], based on the Giussani Sisters' popular fumetti. Budgeted at $3,000,000, Diabolik was completed by Bava for only $400,000. One of the finest comics adaptations ever, Diabolik was enormously lucrative in Europe. Accustomed to the freedom that came with budgets of under $150,000, Bava found that he disliked the production office interference and other pressures that came with hardball budgets, and politely declined DeLaurentiis' invitation to helm a sequel. Bava healed from the experience in a hidden capacity, collaborating with Carlo Rambaldi on the special effects for the miniseries Odissea (1968). Afterwards, Bava happily withdrew to "slumming" in more familiar territory, directing the darkly ironic psycho-thriller Il rosso segno della follia [A Hatchet for the Honeymoon, 1969] in Barcelona.
In the wake of Dario Argento's 1970 debut with L'uccello dalle piume di cristallo [The Bird with the Crystal Plumage], Bava returned to the newly-fashionable giallo with Cinque bambole e la luna d'Agosto [Five Dolls for an August Moon, 1970], which he also edited. He then extended, even obliterated, the frontiers of this sub-genre with L'ecologia del delitto [A Bay of Blood/Twitch of the Death Nerve, 1971], which Bava also co-wrote and photographed. This diabolical black comedy, boasting 13 characters and 13 outrageously splashy murders, was reviled at the time of its release, but proved prophetic when the imitative Friday the 13th (1980) launched a new generation of "body count" movies. In America, Bava's trail-blazing splatter film was eventually retitled Last House on the Left, Part 2.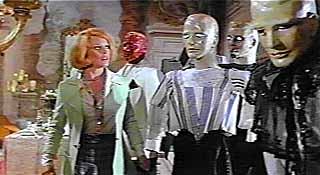 Elke Sommer stumbles upon the mannequin-filled room
of the murderer/necrophile in Lisa and the Devil.
An association with American producer Alfredo Leone led to the making of Lise e il diavolo [Lisa and the Devil, 1973], an extraordinary combination of horror film, art film and personal testament. Based on Bava's memories of growing up among his father's sculptures, dialogue borrowed from Dostoevski's I Diavoli, and an unrealized project about real-life necrophile Viktor Ardisson, Lise e il diavolo unfolds like a waking dream, following its disoriented heroine (Elke Sommer) through a time-suspended labyrinth of love, sex and violent death. A film ahead of its time, Bava's masterpiece proved unsalable at the 1973 Cannes Film Festival.
It was in the shadow of this crushing defeat that Bava got the green light to direct a personal pet project, Man and Boy, based on a story which he had found in an Ellery Queen Mystery magazine. The title was changed to Cani arrabbiati ("Rabid Dogs") during production. Even when reduced to making a film without sets, Bava encountered bad luck. Shortly before the filming was completed, producer Roberto Loyola declared bankruptcy and his properties were impounded, including the unfinished Cani arrabbiati. Bava never lived to see his most daring film--the only film he ever made outside the context of fantasy--completed or released; it was impounded for 20 years, then acquired and completed by co-star Lea Lander (the fifth victim of Sei donne per l'assassino) 15 years after Bava's death. It had its world premiere in Bruxelles in 1996 under the title Semaforo rosso ("Red Traffic Light"), where it received great critical acclaim.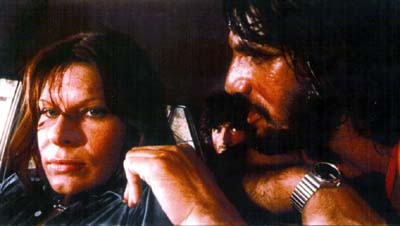 Lea Lander is taunted by Luigi Montefiori in Rabid Dogs.
Photo courtesy of Tim Lucas.
Bava next suffered the humiliation of painting a moustache on his masterpiece Lise e il diavolo in an effort to recover its $1,000,000 cost. The sad result was La casa dell'esorcismo [The House of Exorcism, 1975], a bewildering, johnny-come-lately Exorcist rip-off combining Lise footage with pea soup, priestly guilt and blasphemy. Once again, Bava's boldly original work was packaged with the title of a second-rate imitation.
With a string of failures, misfires and also some non- paying successes behind him, Bava was also finding it harder to work after turning 60. Troubled by his father's inactivity, Bava's son Lamberto (his assistant director since 1966) scripted what proved to be his final feature, Schock [Shock, 1977]--the harrowing story of a woman's mental collapse after returning to the house where she once lived with her late, drug-addicted husband. Bava storyboarded the entire film but directed only parts, feigning illness to help Lamberto gain some directorial experience. The Italian master of illusion was becoming disillusioned with the business of making movies. In America, this original story was retitled Beyond the Door II.
Father and son next shared directorial credit for a lovely adaptation of Prosper Merimee's fantasy La Venere d'Ille ("Venus of Ille," 1978), shot in 16mm for RAI-TV. Even this swan song success found a way to disappoint its maker, remaining unshown for two years, and premiering after Bava's death.
Bava's last assignment was working as an uncredited special effects designer on Dario Argento's Inferno (1980). Mario built maquettes, painted glass mattes and devised optical effects for the film, including its momentous lunar eclipse. As Argento now admits, Mario also directed certain scenes in his absence when he was stricken with hepatitis.
Mario Bava died of a heart attack at the age of 65, within days of a medical check-up that found him to be in perfect health. In a final irony, Bava--who had been born the day before World War I was declared--died on April 25, 1980, the day remembered by Italian survivors of World War II as "Liberation Day."
page 2 of 2


---
Article © 1997 Tim Lucas. All rights reserved.
Tim Lucas is the editor/publisher of Video Watchdog. He is currently working on a book about Mario Bava. You can check out the Video Watchdog Web site at http://www.cinemaweb.com/videowd.