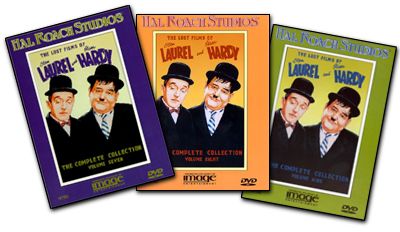 About the DVDs

The Lost Films of Laurel and Hardy

has been mastered from the best surviving sources. In many cases, this means original nitrate camera negatives were used, and for several shorts, the musical accompaniment and sound effects were provided by using the original "Vitaphone" soundtracks.

This is a great collection; however, one nagging problem affects several shorts -- over-matting. This becomes a large problem on "Putting Pants on Philip," (1928: vol. 6), which contains one of the greatest sight gags of Laurel and Hardy's career. Laurel plays a Scottish lad visiting in New York who walks over a sidewalk grate when a gust of air sends his kilt skywards. Soon he attracts a crowd of onlookers. After losing his shorts (thanks to a sneeze!), Laurel steps on another grate and … but the grate is cropped off the bottom of the screen! So we can't tell what has happened until we see the women onlookers fainting. This is the unfortunate result of an inattentive mastering job. For the most part, though, the shorts on this DVD collection look great.

Another huge bonus is the ample supply of Charley Chase shorts included as part of this collection. Oliver Hardy had supporting roles in several Chase comedies, so a handful of these comedies have been collected as part of this set. "Fluttering Hearts" (1927: vol. 5), "Mighty Like a Moose" (1926: vol. 9), and "Mum's the Word" (1926: vol. 9) in particular are outstanding comedies. Chase was one of the all-time great screen comedians. He continued making shorts into the '40s.

On the inner sleever of each volume in this series, you'll find insightful notes on each short, as well as original poster artwork. This is a superbly packaged series that plays an important role in helping to reassert the comic genius of Laurel and Hardy. If you can only afford one or two DVDs in this series, it's hard for me to suggest which ones to pick. Because the best comedies have been evenly spread throughout the series, and chronology has been completely disregarded, the volumes are relatively equal in quality. This programming approach is a transparent ploy to stretch out the series so that customers must purchase a greater number of discs. Also, due to the haphazard programming, it's much more difficult to follow how Laurel and Hardy's careers progressed. I wish the discs had adhered to chronological order and had included separate discs for 1) Stan Laurel's solo outings, 2) Charley Chase comedies, and 3) other Hal Roach comedies with Oliver Hardy in supporting roles. But it's hard to complain about the superb level of comedy that you'll discover on these discs. This is an excellent set (notwithstanding the questionable programming) that all fans of silent comedy should be familiar with. Hal Roach Studios has done the film world a great service by hunting down the negatives and Vitaphone tracks and putting together a comprehensive collection of Laurel and Hardy's silent work.
---
The first nine volumes of Hal Roach Studios' "The Lost Films of Laurel and Hardy: The Complete Collection" are now available on DVD (distribution by Image Entertainment). This set is projected as a ten-volume series that will include all of Laurel and Hardy's silent comedies, as well as a selection of their solo silent outings. Suggested retail price for each volume: $29.99. For additional information, we suggest you check out the Image Entertainment Web site.
---
The Lost Films of Laurel and Hardy: The Complete Collection
Volume One
Big Business (1928), Do Detectives Think? (1927), Call of the Cuckoo (1927: stars Max Davidson, with Laurel and Hardy, James Finlayson, and Charley Chase in bit roles), The Finishing Touch (1928), On the Front Page (1926: a Stan Laurel comedy), Hustling For Health (1918: a Stan Laurel comedy)
Volume Two
Double Whoopee (1929), Early to Bed (1928), Angora Love (1929), Sugar Daddies (1927), Roughest Africa (1923: a Stan Laurel comedy), Oranges and Lemons (1923: a Stan Laurel comedy)
Volume Three
Liberty (1929), We Faw Down (1928), Bromo and Juliet (1926: a Charley Chase comedy, with Oliver Hardy in a supporting role), The Lucky Dog (1919), Along Came Aunite (1926: a Glenn Tryon comedy, with Oliver Hardy in a supporting role), Love 'Em and Weep (1927)
Volume Four
They Go Boom! (1929), Their Purple Moment (1928), Bacon Grabbers (1929), Should Sailors Marry? (1925: a Clyde Cook comedy, with Oliver Hardy in a supporting role), Unaccustomed As We Are (1929: silent version), On the Wrong Trek (1936: a Charley Chase comedy, with a cameo appearance by Laurel and Hardy)
Volume Five
Wrong Again (1929), Habeas Corpus (1929), Duck Soup (1927), Fluttering Hearts (1927: a Charley Chase comedy), Leave 'Em Laughing (1928), Short Kilts (1924: a Stan Laurel comedy)
Volume Six
That's My Wife (1929), Flying Elephants (1928), Putting Pants on Philip (1928), Crazy Like a Fox (1926: a Charley Chase comedy, with Oliver Hardy in a supporting role), The Soilers (1923: a Stan Laurel comedy), 45 Minutes from Hollywood (1926: a Glenn Tryon comedy, with Laurel and Hardy in supporting roles)
Volume Seven
Unaccustomed As We Are (1929: sound version), Should Married Men Go Home (1928), Mixed Nuts (1934: a Hal Roach "All-Star" musical comedy), Double Whoopee (1929: "all-talking" version with voices dubbed by Chuck McCann), With Love and Hisses (1927)
Volume Eight
Two Tars (1928), The Second Hundred Years (1927), Slipping Wives (1927), From Soup to Nuts (1928), Scorching Sands (1923: a Stan Laurel comedy), Should Tall Men Marry? (1927: a Stan Laurel comedy)
Volume Nine
You're Darn Tootin' (1928), Battle of the Century (1928), Wandering Papas (1927: a Clyde Cook comedy, directed by Stan Laurel, with Oliver Hardy in a supporting role), Mighty Like a Moose (1926: a Charley Chase comedy), Why Girls Love Sailors (1927), Mum's the Word (1926: a Charley Chase comedy)
page 7 of 7


---
Page 1 Introduction
Page 2 Pre-Union Solo Efforts (1919-1926)
Page 3 Together … But Not Yet a Team (1926-1927)
Page 4 The Team Solidifies (1927)
Page 5 Classic Comedies (1928-1929)
Page 6 The Transition to Sound (1929)
Page 7 About the DVDs