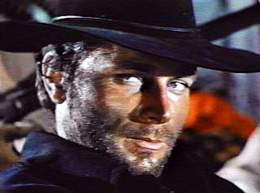 Franco Nero as the title character in Django.
By 1966, the Spaghetti Western genre had gained full momentum, and major directors and trends emerged. Sergio Corbucci (aka "The Other Sergio," and who had already directed Westerns) made his over-the-top Django, a film which not only helped introduce the revenge motive to Spaghetti Western plots, it raised the violence quotient considerably (causing it to be banned in several markets). Brutality and high body counts became part of the formula causing critics to overlook many outstanding films. Giulio Questi's surrealistic Django Kill! (1967) with Tomas Milian is considered the most brutal of the Spaghettis, as well as the strangest, with humiliation, torture, vampire bats, a crucifiction, and an army of homosexual outlaws.
Django spawned over thirty sequels, though only one of these was official. As with other series characters, like the hero of Duccio Tessari's A Pistol for Ringo and Return of Ringo (both 1965) starring Montgomery Wood, many of these films were re-dubbed or re-titled to cash in on the original films. Gianfranco Parolini's (aka Frank Kramer) Sartana (1968) and Sabata (1969) as well as E. B. Clucher's They Call Me Trinity (1970) all inspired ersatz sequels.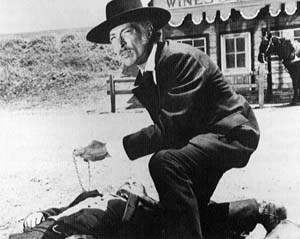 Lee Van Cleef in Return of Sabata.
Politics, mostly of the leftist type, arrived with Sergio Sollima's The Big Gundown (1966) with Lee Van Cleef and Tomas Milian, a film considered to be the best non-Leone Spaghetti Western. Milian plays a Mexican peasant persecuted by the privileged of society. Sollima followed up with two more Westerns starring Tomas Milian -- Face to Face (1967) and Run, Man, Run (1967), the Big Gundown sequel. Damiano Damiani's A Bullet for the General (1966) and Giulio Petroni's Tepepa (1967) reinforced those politics with films set amidst the class struggles of the Mexican Revolution. Sergio Corbucci joined in, making The Great Silence (1967), A Professional Gun (aka The Mercenary) (1968) and Companeros! (1970).
The majority of the Spaghetti Westerns, though, never pretended to be more than simple action films for unsophisticated movie-goers, finding their biggest audiences in the Third World. Enzo Girolami (using the pseudonyms E.G. Rowland and Enzo G. Castellari) specialized in silly but entertaining films such as Payment in Blood and Any Gun Can Play (both 1968). As Thomas Weisser points out, Girolami has the distinction of making one of the worst Spaghettis -- Cipolla Colt (aka Spaghetti Western) (1975) -- and one of the best -- the mystical Keoma (1975). Demofilo Fidani, using various aliases such as Miles Deem, Dick Spitfire and Slim Alone, directed numerous low-budget and low-brow Westerns such as Django and Sartana are Coming....It's the End (1970) and Go Away! Trinity Has Arrived in Eldorado (1972). Other prolific directors include Alfonso Balcazar, Mario Caiano, Giuliano Carmineo (aka Anthony Ascott), Ignacio Iquino, Joaquin and Rafael Romero Marchant, Roberto Montero, and Primo Zeglio.
page 2 of 5


---
Other Western articles in this issue: