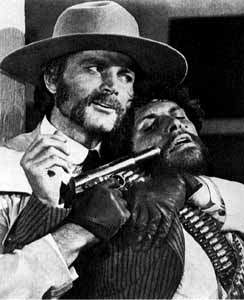 Franco Nero and Tony Musante in A Professional Gun.
Cuban-born Tomas Milian, who played the psychotic killer in Eugenio Martin's The Ugly Ones (1966), became a third-world hero portraying Mexican peasants and revolutionaries in the best films by Sollima and Corbucci. British stage actor George Hilton made twenty-two Westerns, usually playing the mysterious gun-toting stranger. In Giorgio Capitani's The Ruthless Four (1968), he played Van Heflin's homosexual adopted son, who was in cahoots with villain Klaus Kinski. German Kinski, best known as the hunchbacked "Wild" in For a Few Dollars More, made a specialty of playing psychopaths. Other familiar faces include Gian Maria Volonte, Gianni Garko, Anthony Steffen (pseudonym for Antonio De Teffe), and George Martin.
Many European bit players and character actors found steady work in the Spaghettis. Mario Brega, Aldo Sambrell, Chris Huerta and Fernando Sancho all specialized in playing greasy, sadistic bandits. Sancho appeared in an incredible fifty-three Westerns. Fernando Rey, best known as the antagonist in The French Connection, made a modest career playing priests and intellectuals.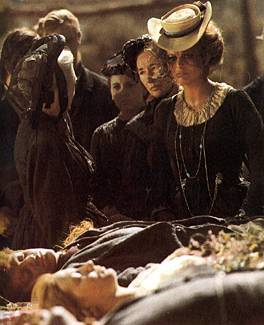 Claudia Cardinale finds her family has been murdered
by an outlaw in Once Upon a Time in the West.
Being a macho genre, females were lacking in major roles. Though a few Spaghettis, such as Louis Malle's Viva Maria! (1965), Sergio Leone's Once Upon a Time in the West (1968), Christian-Jaque's The Legend of Frenchie King (1971), and Burt Kennedy's Hannie Caulder (1971), featured women in heroic roles, females were mostly incidental to Spaghetti Westerns. Often women played prostitutes, widows, punching bags, or corpses, prompting some critics to complain of the misogynistic nature of the films. (Critics also complained of racism because blacks were almost non-existent in Spaghetti Westerns and Mexicans were usually portrayed as either priests or bandits).
Playing nearly as important a role as the actors was the terrain. The vast majority of Spaghetti Westerns were filmed on location in Spain, usually near the Mediterranean coastal town of Almeria. This area of the country resembles the American Southwest, which is why most of the films take place along the Mexican border (that, and all the Spanish extras). Most of the German "Winnetou" films used the mountain region around the Croatian city of Split in the former Yugoslavia. Other locations included the Italian Alps, South Africa, and the Canary Islands, and Albert Band took his cast to Argentina to film the cattle drive sequences for The Tramplers (1966) (which explains the odd-looking cattle). Sergio Leone's Once Upon a Time in the West (1968) and Tonino Valerii's My Name is Nobody (1973) were filmed partly in Utah's Monument Valley (aka John Ford Country).
page 3 of 5


---
Other Western articles in this issue: