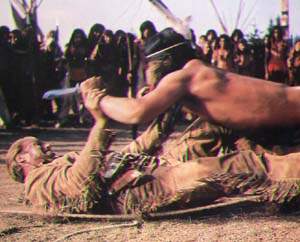 Lex Barker in The Treasure of Silver Lake.
In 1962, however, German producer Horst Wendlandt and director Harald Reinl teamed up to make The Treasure of Silver Lake, based on the frontier stories of German writer Karl May. Filmed in Yugoslavia with American actor Lex Barker and Frenchman Pierre Brice in the lead roles, this tongue-in-cheek adventure proved extremely popular with European audiences. Other producers jumped on the bandwagon and by 1964 some two dozen German, Italian and Spanish Westerns had been made. Quality was still generally bad and the films stylistically fared no better than the sword-and-sandal adventures (peplums) they replaced. One notable film of this period was Ricardo Blasco's Gunfight at Red Sands (1963) with Richard Harrison, who would eventually star in seventeen Spaghetti Westerns.
Then, an obscure director named Sergio Leone was given $200,000 and a load of leftover film stock and told to make a Western. With a script based on Akira Kurosawa's samurai epic Yojimbo, an American TV actor named Clint Eastwood, a music composer named Ennio Morricone, and a cameraman named Massimo Dallamano, Leone made what was essentially supposed to be a throw-away film; Per un Pugno di Dollari -- A Fistful of Dollars. This violent, cynical and visually stunning film introduced The Man With No Name, the anti-heroic gunslinger for whom money is the only motivation and the villains are merely obstacles to be removed. Many later films followed this formula of the lone gunman in pursuit of money to the exclusion of all else. Leone's unique style, artistic camera angles, extension of time and raw, explosive violence presented a skewed view of the West, making his film different from any Western that had come before. Critics panned it for its brutal depiction of an unromantic West, but audiences loved it, and the Spaghetti Western took off like a bullet from a Colt .45.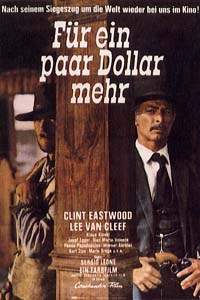 German poster artwork for For a Few Dollars More.
The success of A Fistful of Dollars had producers financing more and more Westerns with bigger and bigger budgets. Leone quickly followed in 1965 with a sequel -- For a Few Dollars More, this time teaming Eastwood with a retired Hollywood bit player named Lee Van Cleef as rival bounty hunters after a crazed killer. The success of this second film cemented Leone's reputation as a Western director and helped make international stars of Eastwood, Van Cleef, and composer Morricone.
The Good, the Bad and the Ugly (1966) with Clint Eastwood, Lee Van Cleef and Eli Wallach was the last of Leone's Dollars Trilogy. Long, funny and brutal, this Civil War epic is the quintessential Spaghetti Western. From cinematographer Tonino Delli Colli's exquisite use of widescreen to Ennio Morricone's now-classic score, this film remains the most famous of all Spaghetti Westerns. In fact, Ennio Morricone's theme is so recognizable, it has been used numerous times to underscore showdowns of one kind or another on many TV shows, with those scenes mimicking Leone's visual style.
page 1 of 5


---
Other Western articles in this issue: