Geraldine Farrar in Carmen.

(©1997
Kino on Video)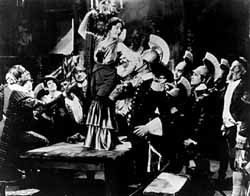 DeMille saw Carmen as the ideal vehicle to introduce her to movie audiences. However DeMille faced a copyright problem if he tackled Bizet's Carmen (the copyright owner demanded outrageous sums). As a result, DeMille turned to the original source material, a story by Prosper Merimee that had long since passed into public domain. The results, while not entirely successful, make for some fascinating drama. Shorn of her great voice by the silent camera, Farrar relied on just her acting alone. She becomes earthy and vivacious in the lead role, but she's less than alluring or exotic--an actress trying too hard to convince her audience of her sexuality. The movie contains few of DeMille's trademark directorial touches: you won't find any strange flashbacks to biblical times or any overt moralizing. The storytelling is uncluttered and straightforward as DeMille rushes through the story in only 59 minutes. A fascinating tale told at breakneck speed.
page 2 of 7


---
Go to:

Carmen
---
"Cecil B. DeMille: The Visionary Years, 1915-1927": The six videos comprising this set are available from Kino on Video. Suggested retail price: $29.95 each. For more information, we suggest you check out the Kino Web site: http://www.kino.com.