Gloria Swanson gets mauled in Male and Female.

(©1997
Kino on Video)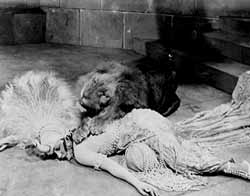 DeMille was already using the camera effectively by this time, the opening sequence shows a servant boy peeping through keyholes at the sleeping members of the household. DeMille lets us experience what the boy sees through each keyhole, including the beautiful, thigh-exposed, sleeping, Gloria Swanson. The boy goes into spasms of joy until the head butler grabs him by the ear. Male and Female contrasts the rich and privileged with their servants. A butler (Thomas Meighan) secretly loves the vain, spoiled, and beautiful Lady Mary Lasenby (Swanson), neglecting the servant girl that loves him. But after a ship wreck in the south seas while on a pleasure cruise, Swanson and her friends are trapped on a deserted island with their servants (shades of Gilligan's Island). Soon afterwards, their worlds are turned upside down as the socialites must rely on their servants' wits for survival. Eventually, the roles of master and servant are reversed and Lady Lasenby finds herself struggling for the attentions of Crichton. Based upon J.M. Barrie's play The Admirable Crichton, Male and Female was DeMille's biggest hit to date. Part of the charm of the movie can be ascribed to a strange flashback scene where, in ancient Babylon, Swanson gets thrown to the lions.
page 5 of 7


---
Go to:

Male and Female
---
"Cecil B. DeMille: The Visionary Years, 1915-1927": The six videos comprising this set are available from Kino on Video. Suggested retail price: $29.95 each. For more information, we suggest you check out the Kino Web site: http://www.kino.com.