Geraldine Farrar in Joan the Woman.

(©1997
Kino on Video)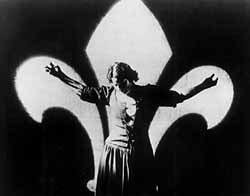 This fact points to one of the main problems with the movie, Farrar is never believable as a young woman. Her frame is too wide and her hips have a middle-aged spread. But what the movie lacks in believability, it makes up for in grandeur. As one of the first epic scale movies to follow in the wake of The Birth of a Nation, Joan the Woman gives us huge battle scenes (such as the seige of Orleans) where the warriors clash in swarming masses on the battlefield, swords flying in all directions. It's amazing that anyone survived such sword and shield combat. Men fall from castle walls, warriors splash through moats, and scalding liquid is poured from cauldrons. DeMille gives us some of the greatest battle scenes ever put on film. But dramatically, Joan the Woman is creaky at best. The acting is presented in classic silent style, with theatrical gestures and overemphatic posturing. Farrar's actions, in particular, become mechanical, the motions of an actress being constantly prodded by her director to follow his instructions (shouted at her with a megaphone, quite likely). The movie also gives us a framing structure (a device frequently used in DeMille's early movies). The movie starts on the battle field of France, WWI, as a young soldier volunteers to carry a bomb across a body-strewn field and heave it into a German trench. Before he carries the bomb, we get the tale of Joan of Arc. The juxtaposition of the two stories was intended to create a new level of meaning. But it only points at the superficial nature of both stories. Instead of giving us some intriguing dramatics, DeMille opts for bloated historical drama that rarely hints at the humans who performed the deeds. Many of the supporting performers actually deliver more convincing performances than Farrar, including Wallace Reid as Eric Trent and Raymond Hatton as Charles XII of France. In one of the best scenes in the movie, Joan waits in prison, experiencing visions of angels and hooded men who torment her, while Charles XII (the same man that Joan rallied France to support) participates in a drunken orgy. Joan the Woman contains several excellent scenes, but it's a bloated production that doesn't allow us to really get to know Joan. Unfortunately, DeMille would return to this mode of production frequently throughout his career. And while his extravagant productions have their admirers, movies like this one ultimately tainted the critical perception of DeMille and led to his also-ran status in the annals of great American directors.
page 3 of 7


---
Go to:

Joan The Woman
---
"Cecil B. DeMille: The Visionary Years, 1915-1927": The six videos comprising this set are available from Kino on Video. Suggested retail price: $29.95 each. For more information, we suggest you check out the Kino Web site: http://www.kino.com.