Raymond Hatton in The Whispering Chorus.

(©1997
Kino on Video)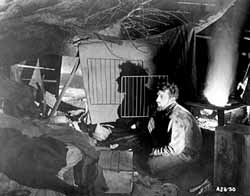 You won't find anything glamorous in this movie. The male protagonist lives in shacks, gets accused of murder, runs from the police, works on the docks, and gets crushed by heavy equipment. With the inevitability of fate ruling all human endeavor in the movie, The Whispering Chorus is a worthy companion to early twentieth century naturalistic literature such as McTeague and Sister Carrie. It also foreshadowed the development of film noir in the '40s. Stories have long suggested that the commercial failure of The Whispering Chorus pushed DeMille to focus on highly commercial extravagant fare, but in fact The Whispering Chorus was exceptionally successful commercially (although it was criticized for its morbidity). The film contains several fascinating scenes where DeMille uses the camera imaginatively. At one point, we see the hand of a man soon to be executed in an electric chair. He holds a rose. When the lever is pulled, the camera focuses on the floor, where the wilted flower petals fall. The Whispering Chorus also is notable for the use of voices--"the whispering chorus"--who constantly urge the male lead to do wrong--to gamble, to steal, etc. The Whispering Chorus was one of the few times that DeMille attempted a psychological drama and from the excellent results of this movie, it's unfortunate he did not pursue this avenue more often.
page 4 of 7


---
Go to:

The Whispering Chorus
---
"Cecil B. DeMille: The Visionary Years, 1915-1927": The six videos comprising this set are available from Kino on Video. Suggested retail price: $29.95 each. For more information, we suggest you check out the Kino Web site: http://www.kino.com.