BLOOD AND BLACK LACE
REVIEW BY DEREK HILL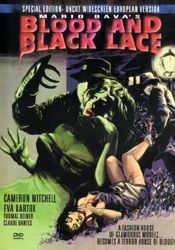 If there is a cornerstone of the Italian giallo, then Mario Bava's Blood and Black Lace is surely it. Retreating from the dark moldy confines of the gothic horror film and into the mad urban rush of the city, where the beautiful people work, play and while away their days and nights doing as little as possible, Bava zeroed in on a rather atypical locale for a horror film – a fashion house. (Dario Argento even paid homage to Blood and Black Lace by directing a fashion show for designer Nicola Trussardi called Trussardi Action in 1988, where a killer knocked off the models on the runway.) Equipped with his colored gels and his predatory camera, Bava arguably created the slasher subgenre and kicked down the door for subsequent directors to stick in their cinematic blades as well, for better or worse.
Granted, Hitchcock's Psycho was released in 1960 as was Michael Powell's masterful Peeping Tom, but the ferociousness of Bava's death scenes and his refusal to turn his camera lens from the Grand Guignol blood-letting ushered in a new wave of cinematic violence, especially against women in film. Hitchcock toyed with us, Powell showed us but kept his emotional distance, but Bava passionately reveled in the shock of it all. Camera as weapon; the masked killer as cipher upon whom the audience was almost gleefully invited to imprint their darkest animosities.


from Blood and Black Lace
[click photos for larger versions]
Blood and Black Lace – like many of Bava's films – has little regard for character development, sense of story, or even logic. The plot is simple – a mad faceless killer, dressed in a black trenchcoat, stalks and murders various models in an attempt to recover a red diary which would implicate the killer in criminal activities. But regardless of the loopy plot contrivances, Blood and Black Lace is one of Bava's most technically satisfying and overall strongest cinematic efforts -- from beginning to end, the film is utterly alive. Bava's macabre enthusiasm for the material is infectious.

It's appropriate that much of the film takes place in and around a fashion house because Bava is only concerned with style and the art of murder. But what style it is! Here, the style is substance. Bava's mise-en-scene, an overload of colors and visual and narrative red herrings, ultimately lead nowhere. What mystery exists is inconsequential, for the film's most memorable sequences are its lavish, brutally staged death scenes. Subsequent directors such as Dario Argento, Brian De Palma, John Carpenter, Wes Craven, and even Hitchcock for his film Frenzy (1972) understood this to varying degrees. The screenplay serves the murders, not the other way around.

Over the course of the film as we watch the six models meet their grisly fates, the camera presses in tightly, with no mercy for the victims. 37 years after its making, the death scenes remain chilling, vile, and angry. Women are slashed, drowned, beaten, and burned. But they always look splendid.

That is not to say that the film is an unpalatable experience. In fact, this is perhaps the most lively and utterly entertaining horror film Bava ever directed. Carlo Rustichelli's score is stripped of any gothic overtones, employing instead a bossa nova-like rhythm throughout. From the opening credits where we meet our cast of nefarious characters, as they pose appropriately alongside faceless and torsoless mannequins, it is obvious that Bava's intentions are to dazzle and have fun. A twisted fun, perhaps -- but fun nonetheless.

As with Whip and the Body, VCI's DVD release is excellent. The film looks and sounds stupendous. Tim Lucas, once again, offers a telling and enjoyable look at this seminal horror film. The disc also includes the English and French theatrical trailers, an interview with the vastly underrated Cameron Mitchell and one with Mary Dawne Arden, who played Peggy in the film. The disc also includes a photo gallery and more.
---
Blood and Black Lace is now available on DVD from VCI Entertainment in its original aspect ratio of 1.66:1. Special features: audio commentary and liner notes by Tim Lucas of Video Watchdog; interviews with Cameron Mitchell and Mary Dawne Arden; bonus music soundtrack; trailers; and a photo gallery. Suggested retail price: $29.99. Blood and Black Lace is also available packaged with Kill, Baby ... Kill! and The Whip and the Body as the "Mario Bava Box Set." Suggested retail price: $59.99. For more information, check out the VCI Entertainment Web site.