THE WHIP AND THE BODY
REVIEW BY DEREK HILL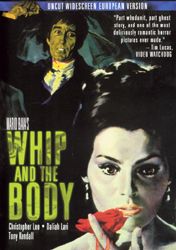 Mario Bavaís Whip and the Body (1963) is without a doubt the great directorís most romantic, overwrought, macabre, and sexually provocative film. With a screenplay by veteran Italian film scribe Ernesto Galdi (who also wrote the equally disturbing, sexually brazen, necrophilic classic The Horrible Dr. Hichcock in 1962), Ugo Guerra and Bava himself, Whip and the Body centers on the sado-masochistic relationship between the prodigal son Kurt (wonderfully played by the stately Christopher Lee) and the beautiful Nevenka (played by the stunning Barbara Steele lookalike Daliah Lavi). Their master/slave relationship is so dynamic, complex, and erotically charged that it is no wonder that the censors had their way with the film.
Nevenka, who was once Kurtís mistress and bride to be, is now married to Kurtís brother Christian. But it doesnít take long before Kurt and Nevenka are back acting out their master/slave relationship. Kurt brutally whips Nevenka (and more?) down by the seashore one sunny afternoon and reclaims what is his. That night, Kurt is murdered within his chambers and his death starts a domino effect of psychodrama and twisted resentments.


from The Whip and the Body
[click photos for larger versions]
Though always a master of color and sound in his films, Bava displays an even more acute understanding of the medium for Whip and the Body. During the sequence in which Nevenka wakes from a night terror (after Kurtís untimely demise) only to find herself confronting her own mental demons, Bava uses intricate splashes of red across her face and hands, signifying her possible involvement in Kurtís death. And during the finale, yellow roses frame Kurtís ghost as he beckons Nevenka one last time, the yellow color alluding to the flames that are simultaneously devouring Kurtís corporeal bones. Though Bavaís use of colored gels would become even more pronounced in his following films, notably Black Sabbath and Blood and Black Lace, it is during this film that the colors truly gain a psychological significance.

One of the filmís main strengths is also its lush score, by frequent Bava collaborator Carlo Rustichelli. Though his work for Bava was always exceptional and sometimes playful, the music for Whip and the Body is majestic, orgiastic, and ultimately sublime. Itís a perfect accompaniment to Bavaís unwavering, almost confrontational challenge to the viewer to reject the filmís romantic bombast. One either embraces the filmís florid hysteria wholeheartedly, or detests it with equal emotion. There is no middle ground. You cannot simply pick and choose scenes that agree with oneís aesthetic report card.

But that all-or-nothing approach seems appropriate considering the subject matter. The pain-pleasure principle that dictates Kurt and Nevenkaís relationship is also one of extremes. Nevenka feigns hatred of Kurtís whip, but she ultimately becomes possessed by the pain it inflicts upon her body and soul. She is marked by Kurtís passion for her, branded by his love that masks itself as hate. Their unlawful marriage to one another truly is one of heaven and hell. Even after Kurtís murder, Nevenka continues to live out their fantasies. She cannot face the reality of living life without her master. Her life with Christian is dull, uninvolving, stripped of all vitality. Though she acted out the role of slave with Kurt while he was still alive, she by no means lacked authority in their tumultuous bonding. Even after his death, Kurt was still bound to her, unable to rest in peace until she let him rest. But with Christian, Nevenka simply exists. A slave without even a chance at freedom.

Other films have also traversed this same material Ė Luis Bunuelís Belle de Jour (1967), The Night Porter (1974), Nine Ĺ Weeks (1986) Ė but strangely enough few horror films have ever walked down this slippery slope in an open fashion. Sex, though forever linked with the horror genre, is usually regulated to subtext or adolescent innuendo. Rarely does a genre director tackle such material without shame. Thankfully, Mario Bava did not bed with angels.

VCIís DVD of Whip and the Body fully restores the film to a glory it never previously possessed on home video. Though the film does occasionally show some wear and tear, the overall picture and sound (minus the occasional crackles and pops that are unavoidable for a film of this vintage) are exceptional. The disc includes an informative commentary track by Tim Lucas (editor of the home video bible for films of the fantastic, Video Watchdog), the original American titles sequence, bonus music soundtrack by Carlo Rustichelli, the French trailer as well as three theatrical trailers for other Bava films, a photo gallery, and best of all, two "Easter Egg" scenes of deleted footage. After highlighting the "Original American Titles" option, press the left arrow on your remote control and you will be rewarded with two short deleted scenes.
---
The Whip and the Body is now available on DVD from VCI Entertainment in a widescreen presentation (1.85:1 aspect ratio). Special features: audio commentary by Tim Lucas of Video Watchdog; bonus music soundtrack by Carlo Rustichelli; trailers; and a photo gallery. Deleted footage is available via an "easter egg." Suggested retail price: $29.99. The Whip and the Body is also available packaged with Blood and Black Lace and Kill, Baby ... Kill! as the "Mario Bava Box Set." Suggested retail price: $59.99. For more information, check out the VCI Entertainment Web site.