5 DOLLS FOR AN AUGUST MOON
REVIEW BY GARY JOHNSON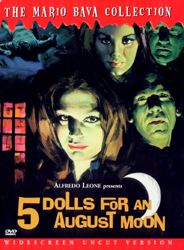 With 5 Dolls For an August Moon (1970), Mario Bava became a director for hire. This wasn't a completely new role for him, but he typically had some degree of control during the filmmaking process (at least until the distributor or producers began tinkering in the editing room). This time, however, Bava agreed to a project just two days before cameras were scheduled to start rolling. According to Tim Lucas's liner notes for Image Entertainment's DVD release of 5 Dolls For an August Moon, the film's producers (Pietro and Mario Bregni) pleaded with Bava to helm their script (written by Mario di Nardo)--which Bava told them was nothing more than a redux of Agatha Christie's Ten Little Indians (a story Bava reportedly hated). But they were insistent and eventually Bava gave in and agreed to direct the picture--on one condition: he had to be paid up front. After several disastrous projects where Bava received little or no monetary compensation (as happened on Hatchet for the Honeymoon), Bava no doubt found the promise of certain money to be attractive.
Stepping into a production at such a late hour left Bava with no opportunity to tailor the script. He asked for extra time to rework the screenplay, but time was a luxury the producers didn't have. Actors and technicians were ready to start the production. So not surprisingly, in terms of characters and plot, the resulting movie bears little resemblance to Bava's other films. At one point a character says, "Everyone seems to be waiting for something that isn't happening," and these are the most apt words in the entire movie. Most Bava movies are about horrible events that happen in front of the camera. There is rarely any question that "something" will eventually happen in a Bava movie. However, with 5 Dolls For an August Moon, we aren't treated to the more horrific events. As guests invited to an isolated island are killed one by one, we don't witness the murders.
Whereas Rene Clair's And Then There Were None (the first screen adaptation of Ten Little Indians) had the benefit of a mysterious, gothic mansion, 5 Dolls For an August Moon is filmed in bright light, with saturated colors and chrome and a kitschy lounge score by Piero Umiliani. With each murder in And Then There Were None, the survivors felt the noose tighten on their own necks. Who's next? Can anyone survive? But in 5 Dolls For an August Moon, there is little sense of building terror. The actors cavort on the island's beach as if they have few concerns. They treat being stranded on an island--with a killer on the loose--as little more than an inconvenience. And therefore we get a Bava thriller without any thrills.
Much of this blame must go to the screenplay--but not all. Bava's camera continuously reinforces the superficial. It slides through the scenes as a dispassionate, cold observer. Without being given the opportunity to mold the story to fit his interests, Bava was forced to simply film the script, but his lack of interest in the characters shows in the way the camera lazily becomes diverted by inanimate objects.
While the subject matter doesn't resemble typical Bava material, the movie definitely looks like a Bava movie. Even though it means undercutting his characters, his camera continuously finds striking colors and surfaces. According to Tim Lucas's liner notes, one of Bava's additions was to cloak each corpse in clear plastic as they're hung in a freezer--to the accompaniment of a jangling calliope. The effect in these sequences is eerie. But more frequently, Bava seems intent on simply underscoring his own hatred for the characters and the story.
5 Dolls For an August Moon has its admirers. But then all Bava movie's (except maybe for Dr. Goldfoot and the Girl Bombs) have ardent supporters who love his idiosyncratic, super-stylistic approach to filmmaking. And even in a travesty like 5 Dolls For an August Moon, his supporters rejoice in the dazzling imagery--as when the struggles of two men upset a bevy of glass balls that roll down a staircase. The balls plunk into a bathtub at the bottom of the stairs, where a woman lies dead of suicide, her wrists slit. Unfortunately, though, watching 5 Dolls For an August Moon is sort of like mining especially poor ore: if you're persistent enough you'll reap some rewards, but those rewards hardly offset the time and energy expended.
Image Entertainment's DVD contains three audio tracks: English, Italian with English subtitles, and isolated music and effects. In addition, you'll find a brief photo/poster gallery, as well as the usual director and star filmographies (and trailers for the other titles in Image Entertainment's "Mario Bava Collection").
---
5 Dolls for an August Moon is now available on DVD from Image Entertainment in a widescreen presentation (1.85:1 aspect ratio). Special features: Mario Bava biography by Tim Lucas of Video Watchdog; director, composer, and cast filmographies; theatrical trailer; and a photo and poster gallery. Suggested retail price: $24.99. For additional information, we suggest you check out the Image Entertainment Web site.