HATCHET FOR THE HONEYMOON
REVIEW BY GARY JOHNSON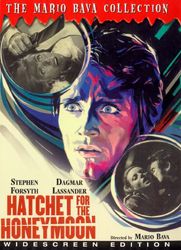 After completing Danger: Diabolik, a relatively high-budgeted movie made for a major European producer, Dino DeLaurentiis, Mario Bava was eager to shake free of interference from meddlesome studio executives. So even while Danger: Diabolik was an immediate financial success (Bava completed the film for less than $1,000,000 when the budget was set at $4,000,000), Bava retreated to a small project that allowed him great freedom. The resulting movie, Hatchet for a Honeymoon, isn't among Bava's best. It's sort of like Psycho if the camera had focused on Norman Bates in every scene. That means there is no hero to root for. The effect is overwhelming and claustrophobic--and not particularly fun to watch. Hitchcock wisely gave us other characters to watch in Psycho, and those characters served as our guides into a morbid world of murder and obsession. But Bava leaves us alone with the killer and the effect is stifling.
Stephen Forsyth plays a fashion magnate named John Harrington who specializes in wedding gowns: "A woman should live only until her wedding night--love once and then die," he says. He stares at himself in a mirror: "I am completely mad…no one suspects I am a madman, a dangerous murderer." Within a room in his mansion, he keeps a battalion of mannequins bedecked in wedding gowns. He caresses and kisses them. He dances with them and quite possibly makes love to them (although it's never shown explicitly in this "GP" rated movie: "all ages admitted, parental guidance suggested"). Meanwhile, his wife sneers at him for not performing his husbandly duty with her. Laura Beti plays the wife. She had recently won the prestigious Volpi Cup for her performance in Pier Paolo Pasolini's Teorema, so Bava built up her role. In the process, however, the movies takes off in a direction that makes little sense. After she dies, her ghost invades Harrington's mind. He can't get away from her. But she has little to do with the story's psychological ramifications, for the movie revolves around Harrington's mother and a late night tryst that he stumbled upon when he was a young boy. Bava teases us with flashbacks leading up to the conclusion of this sequence (which is saved for the final moments of Hatchet); however, the final revelation is neither surprising nor particularly convincing.
At this point in his career, the gothic excesses of Black Sunday, Black Sabbath, and Kill Baby Kill had been phased out of Bava's films in favor of a palpable funereal decadence. Bava would push further in this direction with Lisa and the Devil.
Image Entertainment's DVD is in English and the video transfer is presented in the theatrical aspect ration of 1.66:1.
---
Hatchet for the Honeymoon is now available on DVD from Image Entertainment in its original aspect ratio of 1.66:1. Special features: Mario Bava biography by Tim Lucas of Video Watchdog; director filmography; and a photo and poster gallery. Suggested retail price: $24.99. For additional information, we suggest you check out the Image Entertainment Web site.