FOUR TIMES THAT NIGHT
REVIEW BY GARY JOHNSON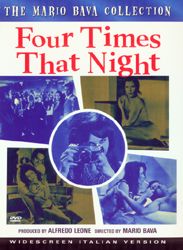 In the late '60s, many Italian film directors felt obligated to attempt at least one sex comedy in their careers. According to Mario Bava, if a director didn't attempt a sex comedy "rumors got around that you were homosexual." So in part to prevent any such accusations, Bava agreed to make a sex comedy. The resulting movie, Four Times That Night (1969), is like an Austin Powers wet dream. It's filled with chrome and vinyl; pink flesh and chain mail dresses. Barely clad go-go dancers gyrate in a dance club cage. Lovers embrace in a super modern shower. A lesbian uses a feather to introduce a beautiful young woman to the joys of woman-on-woman love. There's a little something here for everyone (considering you're in the mood for lusty, testosterone-fueled sex fantasies).
Bava wasn't completely new to this genre. An episode of Black Sabbath titled "The Telephone" featured a similar preoccupation with hip, modern interior design and sexual subject matter, but it took the form of a thriller instead of a comedy. Four Times That Night pushes into the ultra-chic, sex-obsessed territory mined by Radley Metzger. As in the early films of Metzger, Bava's movie supplies lots of flesh, but most "naughty bits" elusively remain covered up. For example, when a couple cavorts in the nude on a living room sofa, a strategically positioned cactus obscures the below-the-waist action.

from Four Times That Night
[click photo for larger version]
While Metzger was forging a path into new territory, Bava was largely just marking time in a genre in which he apparently felt little attachment. As such, Four Times That Night is a curious dead end in Bava's career. If you're a Bava fan and you haven't seen this movie, you're not missing a thing. Yet, the movie is attractive and stylish and wonderfully kitschy, and it features Bava's customary attraction to bold color schemes and unexpected camera angles.

The story (not that is matters) is structured like Akira Kurosawa's Rashomon. It investigates what happened to a young woman named Tina (Daniela Giordano) who arrives home early one morning with her dress ripped. Was she raped by a sex-hungry playboy named Gianni (Brett Halsey)? Or did she give herself willingly? What exactly happened at Gianni's swinging pad? Were Gianni's neighbors involved? They may have stopped by for some fun and games. And the apartment building's doorman, a leering slob who crawls down steep roofs to get a peek inside of Gianni's apartment, has a completely different version of the events.

Interestingly, everyone who tells what happened between Tina and Gianni tends to exaggerate, so the events on screen are always absurd. Even a psychiatrist steps forward to offer us the nonsensical solution: "None of it is true. Or, if you prefer, it all is."

Four Times That Night now makes its American debut on DVD. As part of Image Entertainment's "The Mario Bava Collection," the DVD features a photo/poster gallery and the customary Bava bio and liner notes by Tim Lucas of Video Watchdog.

For Bava completists, Four Times That Night reaffirms Bava's versatility. While he is typically pigeonholed as a horror director, Bava actually made movies in several genres, including science fiction, viking dramas, sword-and-sandal fantasies, and Westerns.
---
Four Times That Night is now available on DVD from Image Entertainment in a widescreen presentation (1.85:1 aspect ratio). The DVD has been enhanced for 16x9 TVs. Special features: Mario Bava biography by Tim Lucas of Video Watchdog; director filmography; and a photo and poster gallery. Suggested retail price: $24.99. For additional information, we suggest you check out the Image Entertainment Web site.