LISA AND THE DEVIL
REVIEW BY GARY JOHNSON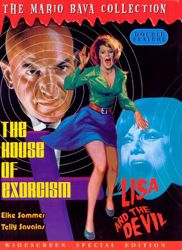 No Mario Bava film has a more troubled history than Lisa and the Devil (except possibly Rabid Dogs, which was never released theatrically). Producer Alfredo Leone gave Bava the opportunity to make a movie with a relatively small amount of studio interference; however, the resulting movie languished on the shelf. Even after a favorable reception at Cannes, no distributors expressed interest (although one distributor offered the laughable amount of $6,000 for the entire Far East rights). Eventually Leone decided that he had to present investors with a salable product in order to recoup the costs.
Reading about audience reactions to The Exorcist, Leone urged Bava to fly to London and catch a screening. He wanted to take advantage of the recent fascination in demonic possession. Leone planned to film new sequences with Lisa and the Devil's star Elke Sommer, in which she would become possessed and a priest would exorcise the demon. Initially, Bava complained, "We can't cut it; it's too beautiful!" But with few, if any, alternatives, Bava eventually agreed to the plan. Meanwhile, Leone turned to friend Robert Alda to play the priest. The filmmaking process wasn't easy. Bava refused to personally direct the more lurid scenes, as when Lisa spews toads and pea soup. According to Leone's own audio commentary on Image Entertainment's presentation of the altered version of Lisa and the Devil, titled The House of Exorcism, Bava did the camera setups and rehearsed the actors for the lurid scenes, but then he left the set, leaving Leone in charge. Not surprisingly, the resulting movie is one of the great travesties of Bava's career. However, during the audio commentary track, Leone argues for the relevance of the exorcism scenes. But these scenes have nothing to do with the original movie. The exorcism scenes don't grow out of the action. They're merely grafted onto the story.
Image Entertainment's DVD contains both Leone's altered version and Bava's original version, which allows us a superb opportunity to witness how the complete character of a movie can be changed by production interference. Sommer plays a vacationer in Italy who becomes separated from her tour group. Matters quickly move from bad to worse as Sommer becomes lost in a maze of back alleys. Near frantic she accepts a ride with a rich couple. When their car breaks down, they look for help at a nearby mansion, where a blind Alida Valli lives. Telly Savalas plays the butler. He's a dead ringer for the devil painted on a wall in the nearby village, and Lisa immediately recognizes the similarity. Meanwhile, Valli's pretty-boy son (Alessio Orano) takes a hankering to Sommer, but their romance moves along uneasily thanks to a killer loose in the mansion, slowly eliminating the mansion's inhabitants and guests.
In his liner notes, Tim Lucas writes in glowing terms of Lisa and the Devil and in the Overlook Encyclopedia of Horror, Phil Hardy writes that "the director's morbid romanticism achieves intensely beautiful effects." However, I struggle with this movie. While the early scenes effectively establish a powerful sense of dislocation, the movie eventually drifts in several directions, forgetting about Sommer for several minutes at a time. In one scene, we're treated to a softcore sexual liaison between the rich woman and her chauffeur. But this scene has nothing to do with the rest of the movie. (Image Entertainment has generously supplied several outtakes from this sequence, of near hardcore intensity. This footage adds nothing and is totally expendable.) On the DVD's audio commentary track, Leone confesses that Bava refused to direct the scene in which the lady and her chauffeur frolic in the nude, bringing to question just how much of Lisa and the Devil is Bava and how much is Leone. Bava certainly wasn't given complete creative freedom if he was forced by Leone to film scenes that he didn't agree with.
I think Lisa and the Devil is a complete mess. While it conveys a palpable sense of death and decay, Bava displays little control on the narrative. He starts with Lisa as the central character, but he lazily lets other characters intrude upon her vision. The movie is similar to a "waking dream" (Tim Lucas' words), but this dream vision becomes fractured when other characters steal the spotlight from Lisa. While it's fascinating to see how the original movie was altered for release in America, Lisa and the Devil itself is a definite disappointment.
Image Entertainment's DVD contains English language versions of both Lisa and the Devil and The House of Exorcism. Both movies are presented in their widescreen aspect ratio of 1.85:1. The DVD includes audio commentary by producer Alfredo Leone and star Elke Sommer, theatrical trailers, a deleted scene, and a photo/poster gallery.
---
Lisa and the Devil is now available on DVD from Image Entertainment in a widescreen presentation (1.85:1 aspect ratio) paired with the alternate version House of Exorcism. Special features: House of Exorcism contains an audio commentary track featuring producer/co-director Alredo Leone and star Elke Sommer; Mario Bava biography by Tim Lucas of Video Watchdog; director and cast filmographies; theatrical trailers; footage from a deleted scene; and a photo and poster gallery. Suggested retail price: $39.99. Both Lisa and the Devil and House of Exorcism are available separately, without the extras, for #24.99 each. For additional information, we suggest you check out the Image Entertainment Web site.