SHOCK
REVIEW BY GARY JOHNSON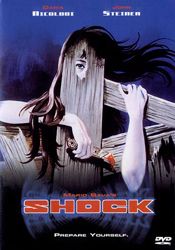 When released in America in 1978, Shock was retitled so as to draw an allegiance with Ovidio Assonitis's Chi Sei?, a blatant rip-off of both The Exorcist and Rosemary's Baby that was released in America as Beyond the Door. Assonitis's film had garnered good box-office returns and the distributor was eager for another hot property. So Shock was retitled Beyond the Door II. Nevermind that Shock had absolutely nothing to do with Assonitis's film. You won't find any pea soup or revolving heads in Shock. Instead, you'll find a relatively low-key tale about a woman (recently released from a mental hospital) whose young son begins talking to an unseen presence. Eventually we learn that the boy's father committed suicide--at least that's what the mother claims. But maybe it wasn't suicide. Maybe the mother was responsible for his death. And maybe the ghostly presence that the boy talks to isn't just a figment of the boy's imagination. Maybe it's the ghost of the father.
Whereas most of Bava's horror films take place in darkness and shadows, Shock largely takes place in daylight, but Bava's creeping camera forever keeps us off balance. Rarely does the camera stop moving. It prowls around corners and peers through bookshelves. As a result, unsettling noises, as simple as the screech of a wooden crate being opened, make us jump and set our nerves on edge. While the camerawork is unmistakably the work of Mario Bava, the story itself is atypical Bava material.

from Shock
[click photo for larger version]
An interview with Bava's assistant director Lamberto Bava (the elder Bava's son), included on Anchor Bay Entertainment's DVD release of Shock, reveals why Shock is different: Bava turned over the direction of many sequences to his son. He felt it was time for Lamberto to start directing on his own and thus gave his son an extra push. In addition, the screenplay was largely written by Lamberto Bava and Dardano Sacchetti. They were influenced by the fiction of Stephen King and strived to create a contemporary horror film. They wrote a story with several King-like elements: the boy, for example, is exceptionally sensitive, with near-psychic powers. The mother is haunted by a past event. Her hold on reality becomes increasing tenuous. And finally a pickax becomes the weapon of choice in a key scene. (Lamberto Bava and Sacchetti were evidently thinking of Stephen King's The Shining when they concocted the story for Shock.) However, the story's indebtedness to King never overpowers the characters or the situations.

Shock pales in comparison to Bava's best movies, but it's an effective thriller with an oppressive atmosphere that reeks of decay and death. It may well be his best movie of the '70s.

Anchor Bay Entertainment's presentation of Shock is available with English, French, and Italian soundtracks (but no subtitles). The video transfer is presented in a widescreen aspect ratio of 1.85:1. The disc includes an exclusive interview with Lamberto Bava, an international trailer, and TV spots.
---
Shock is now available on DVD from Anchor Bay Entertainment in a widescreen presentation (1.85:1 aspect ratio) that has been enhanced for 16X9 televisions. Special features: exclusive interview with assistant director Lamberto Bava; talent bios; theatrical trailer; and TV spots. Suggested retail price: $29.98. For additional information, we suggest you check out the Anchor Bay Entertainment Web site.