TWITCH OF THE DEATH NERVE
REVIEW BY GARY JOHNSON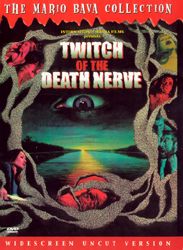 In 5 Dolls For an August Moon, Mario Bava created a murder mystery without showing us the murders take place. The following year, when he made Twitch of the Death Nerve (1971), he went the other direction entirely--giving us a movie that is all about showing us people getting sliced and diced. We see a man and woman speared through their abdomens as they have sex. We see a woman's head neatly sliced off courtesy of an ax. We see a nearly naked woman pursued along a lakeshore by a scythe wielding attacker. We see … and the list goes on and on. If you haven't seen this movie but one of the aforementioned murders sounds familiar, there's good reason: for better or worse, Twitch of the Death Nerve is one of the most imitated movies of the past 30 years. It helped kick start the slasher genre and several of its key scenes were repeated almost verbatim in the Friday the 13th movies. So while Bava's legacy primarily lies in gothic horror, his influence still resonates today (although somewhat dully) in movies such as I Know What You Did Last Summer, Scream, and Urban Legends.
Twitch of the Death Nerve is made for people who derive pleasure from seeing other people killed. Imagine Alfred Hitchcock's Psycho if we didn't get to know Marion Crane before her death in the Bates Hotel shower. Imagine Psycho if we didn't get to know Norman Bates before he's revealed as the murderer. And tag together a dozen murder sequences, each only vaguely linked to the next. In Twitch of the Death Nerve, motivations are irrelevant. People only exist to be killed. If that's your idea of a good time, you'll no doubt have fun watching this movie, but I find it to be a horrifying development in the career of Mario Bava. The same director responsible for Black Sunday and The Whip and the Body eschewed most vestiges of atmosphere in favor of a single-minded stream of explicit carnage. The resulting movie is guaranteed to make audiences squirm, but the violence is near pornographic. In the same way that pornographic movies reduce human interactions to the workings of genitals, Twitch of the Death Nerve reduces cinematic thrills to little more than knives slicing through flesh.
Bava, however, was quite enthusiastic about his new movie: "Thirteen characters, thirteen murders! I was interested in depicting a variety of approaches to murder, in presenting a definite catalogue of crime." And his enthusiasm was somewhat contagious, for Twitch of the Death Nerve was the first Bava movie in five years to be picked up for international distribution (the first since AIP's Dr. Goldfoot and the Girl Bombs). Hallmark Releasing Corporation retitled the movie as Carnage and promoted it as "Rated V for Violence." (Image Entertainment's DVD of Twitch of the Death Nerve also carries the title Carnage in the opening credits.) Retitled yet again as Last House on the Left--Part II, it played the bottom half of drive-in bills until the late '70s.
Image Entertaiment's DVD release of Twitch of the Death Nerve comes complete with a "murder menu" that allows viewers to quickly jump to the murders of their choice. So if waiting five minutes for the next on-screen murder seems like too tasking an endeavor, you can now skip past all the in-between bits.
---
Twitch of the Death Nerve is now available on DVD from Image Entertainment in a widescreen presentation (1.78:1 aspect ratio). The DVD has been enhanced for 16x9 TVs. Special features: Mario Bava biography by Tim Lucas of Video Watchdog; director filmography; a photo and poster gallery; and a special "murder menu" that allows instant access to any of the film's 13 murders. Suggested retail price: $24.99. For additional information, we suggest you check out the Image Entertainment Web site.